By Taylor Barker
The other day I was talking to a friend when they said something that stopped me in my tracks and made me think hard. In fact, my train of thought was so consumed with the question; I had to take a minute to process it. The question was so powerful, yet so simple, that it made me realize the things we take for granted without realizing the work and effort that are involved. By now, you are wondering, "What was the question?" Well, the question was, "Do you know how many jobs are involved in making a simple pencil?" Do you know how many? 
With that thought in my head, my brain spinning out of control, I began to realize the things I have taken for granted in my everyday life.
I recalled a time when I asked for an extra towel in a truck stop for the shower I was about to take. I was ready to start my day with an extra towel, hot water, soap, and clean clothes at hand. Just the thought of it made me think that the idea seemed like a good one, so I pulled into a Love's Travel Center in Pennsylvania. I grabbed my bag, and off I went to enjoy a hot shower, this time appreciating everything involved in making it possible.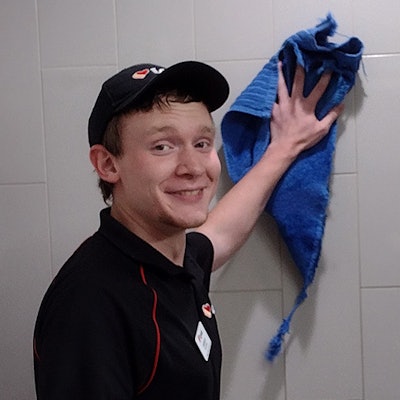 I was greeted with a friendly smile from a young man named Patrick, a 22-year-old that took extraordinary pride in his job. After leaving his job at a local deli, Patrick has been employed by Love's for the past six months. Every day, he comes to work and, time after time, cleans the same showers over and over again, all with a huge smile, outgoing personality, and a tremendous amount of pride. I was blown away to learn that this location provided between 150-200 showers daily, yet Patrick and his teammates were standing by, making every trucker's shower a pleasant experience.
By the end of our conversation, I walked away with a new respect for the hard-working folks that labor endlessly to ensure that every trucker has a clean shower and restroom to enjoy. The very thing that I have always taken for granted, now I realize just how much work goes into providing such service, and  I am more grateful than ever.
On behalf of this American trucker, thank you, Patrick, and everyone else involved in making the trucker's life easier on the highways. We appreciate you.
In closing, please remember that the convenience of our daily needs comes with lots of unseen or unnoticed challenging work and dedication. Sometimes people make mistakes, and it is just as easy to bring the errors to the attention of those in charge in a polite, professional manner than it is to be rude and obnoxious.
To all my fellow drivers, please drive safe, and thank you for your service to our great country.
Taylor Barker is an owner-operator leased to Heniff Transportation, pulling chemical tankers. He is married to his best friend, Cherie Barker, and together work to grow both of their businesses. They enjoy giving back to their community.  Taylor is also an accomplished musician, and when he is home, he enjoys building furniture and playing music.