Today's American truckers can thank Fredrich Wilhelm Schindler for making their lives on the road safer and more comfortable.
In the 1880s, the Swiss-Austrian inventor created what would some 40 years later show up in automobiles as cigarette lighters. Today, that standard feature is better known as a 12-volt port and allows truckers to stay warm when it's cold, cool off when the temperatures rise, and enjoy a cold beverage or a hot meal without having to enter a truck stop or restaurant.
Schindler's modest invention has made possible a long list of appliances and other devices that enhance life on the road.
RELATED NEWS: Latest Truckers' Gear Guide loaded with 'powerful' content
Leading the parade of 12-volt appliances are ones that can be used to handle most any task you could imagine accomplishing in your home's kitchen.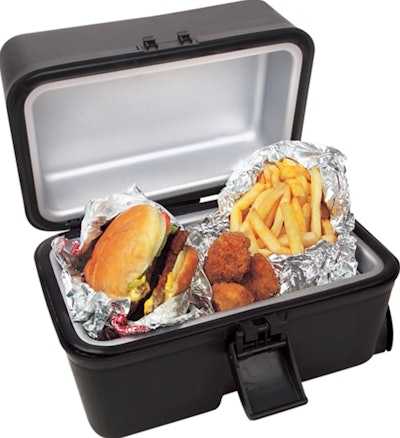 We suspect that one day in the not too distant future, one such appliance will find its rightful place in one of the new trucking-related halls of fame that have been created. Of course, we speak of the lunchbox cooker from the RoadPro Family of Brands.
So named because it resembles the old-style lunchboxes workers carried to job sites before the advent of the food truck, this oven for the road can be used to prepare meals from scratch or reheat ones you prepared at home, were frozen and brought along for the ride. It's able to heat up to 300 degrees to handle most anything asked of it. The actual cooking can be done in an 8-inch x 3.75-inch aluminum pan, which can be tossed when done. RoadPro's portable stove is available online and in most travel centers and big box stores for under $35.
The lunchbox may be as basic as it is beneficial, but there are other more specialized appliances to help with your in-cab cooking needs.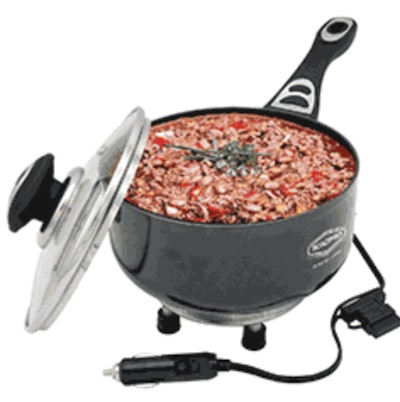 RoadPro also makes:
An 8-inch, non-stick frying pan with a glass lid for under $38
A two-quart saucepan with non-slip feet 4.5-foot power cord for about $38
A personal roaster that holds a 6" x 9" glass baking dish with a three-cup capacity for $44
A 1.5-quart slow cooker, which is ideal for cooking dinner while you drive and for about $30
All of these appliances are available at most truck stops and travel centers and online.
More and more folks have come to rely on a simple rice cooker to help with their meal prep. EduSoho makes a 1.2-quart appliance that allows you to steam vegetables and/or meat while it also cooks the rice. Priced at $54.
While you mightn't consider a rice cooker essential to your trucking kitchen, we're willing to wager a 12-volt coffee pot is.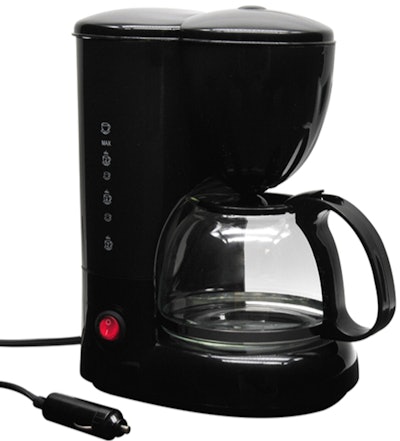 RoadPro offers a 12-volt drip coffee maker. The glass carafe holds 20 ounces, and it comes with a reusable filter and coffee scoop. Features include a quick brew cycle and a stop-drip interrupt when the carafe is removed. It is easy to clean and store and will save you money and time when you need a cup and don't have time to stop. Available online and in most truck stops for $36.
Aside from your coffee, few things start a morning like fresh, hot toast. Fortunately, Tracker makes a 12-volt travel size toaster with an extra-wide slot for making bagels or English muns. It toasts to golden brown in minutes and has a crumb catcher drawer for easy cleanup. Available online and at larger retailers for just under $34.
As important as any other appliance to a proper truck kitchen is a decent refrigerator, and it's possible to spend as much or as little as you wish to keep your food and beverages properly chilled while on the road.
You can choose from:
RoadPro soft-sided cooler bag has a 1.5-liter capacity and will cool contents to 35 degrees below ambient temperatures. This cooler retails for $69.99 and is available in truck stops, travel centers, and online.
Coleman TE 40-Quart cooler holds the equivalent of 44 cans plus snacks This iceless cooler chills contents to 40°F below the surrounding temperature. Powered by 110-Volt home outlet (with separate adaptor) or 12-Volt vehicle outlet (included) Available online for $131.
CHO portable freezer/cooler; 16-liter capacity; AC adapter included; has trolly wheels; available online for $199
Dometic CFX3 45-liter refrigerator/freezer is near the top of the price list at $941, and is available online. In addition to 12-volt power, it can use AC or solar to keep your cold things cold. You can control the temperature settings by WiFi or Bluetooth.
But, the array of devices powered by the 12-volt outlet in your truck's dash is not limited to those that allow you to enjoy decent meals on the road. There are more than a few that add comfort to your time on the truck.
Sometimes you need more than your truck's AC to keep you cool, and there are times when you can't use it. Fortunately, there are a variety of 12-volt fans that can help.
A 12-volt dual-fan from RoadPro has adjustable dual fans, variable speeds, and a heavy-duty clip for easy mounting. With a 7.5' cord, you have flexibility when it comes to mounting. RoadPro also has a 12-volt, a 12-volt portable box fan with two speeds, and a 9-inch blade. You will find all of these fans to keep you cool in most truck stops, travel centers, and online, with prices from $19 to $37.
The Yesfashion 12-volt fan is small but powerful and has a 360-degree rotation with cooling air circulation and quiet operation. It has three different speeds, low, medium, and high and one of the best advantages of this fan is that it will easily clip to the dashboard vents of your truck. Reasonably priced at just over $13, it's an affordable way to add a little extra cool to your ride.
But, with apologies to Herr Schindler, there are numerous devices that convert 12-volt power to alternating current – the kind found in your home or hotel room – so you can use devices with conventional plugs. And there are a number of power inverters available to meet most of your electrical needs.
One very well-regarded inverter is the BESTEK 1,000-watt pure sine wave power inverter. Since this model delivers a pure sine wave, it's safe for your sensitive devices like smartphones, tablets, and laptops. It has two AC outlets and two USB ports. It's lightweight and available online for $156.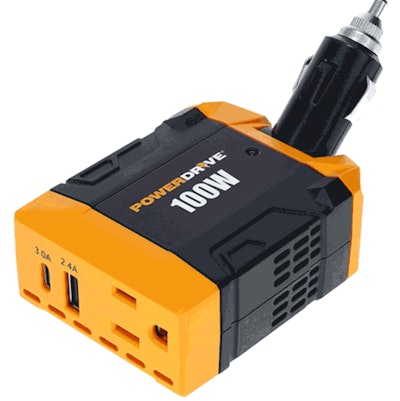 PowerDrive recently unveiled a new line of power inverters ideal for professional truckers on the road. The new inverters will include a variety of power choices, from the 120W cup inverter that ts into a 12-volt port to the 3000W inverter that can be hard-wired. The 12-volt models have a 36" DC cable, short circuit and overload protection, one to three AC outlets, and USB and USB-C ports. Available in truck stops and travel centers.
With numerous appliances and personal comfort devices providing 12-volt power, today's truckers may have to leave home for work, but can still have many of its comforts.