Think back to the early days when cellular phones began wending their way into the American trucking industry. Instead of ensuring they had pockets full of quarters to feed a payphone – if they could find one – early adopters spent part of each meal break looking for a truck stop electrical outlet they could use to top off their phone's charge.
Fortunately, those days are long gone. Now you can take about as much power as you need with you. Between power inverters (devices that convert your truck's direct current to alternating current like you have at home), portable power stations, and power banks, a typical trucker can ensure all of their electrical needs are met.
The market for inverters, power stations, and power banks is both broad and deep. With a little study, you can find products that meet your personal needs that also fit within your spending comfort zone. Here are some to consider.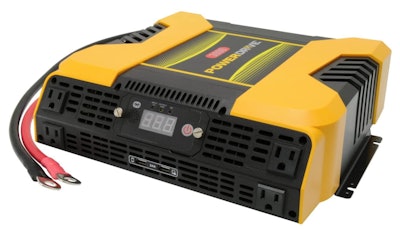 PowerDrive, part of the RoadPro Family of Brands, has numerous solutions to your power needs, including its new 3000 Watt Bluetooth- enabled power inverter. This inverter delivers 3,000 watts of continuous AC power with a high surge capacity for devices that require up to 6,000 watts to start. The new PowerDrive 3000 Watt inverter is loaded with four three-pronged AC outlets with protective covers and two USB ports; one is a standard 2.4 AMP port, and the other is a USB-C 3.0 AMP port. Its safety features include audible alarms and safety shut-off triggers. It also has a whisper-quiet fan and includes a 39" cable kit. Like all of PowerDrive's larger inverters, the PWD3000P features the PowerDrive Plus App that can be downloaded for convenient remote monitoring and operation of the inverter from your smartphone. The PWD3000P will be available at most truck stops and travel centers this July, and it is also available online for $269.99
Giandel makes a large line of inverters, most of which are suitable for use in your truck. They offer both modified and pure sine wave units and have inverters available across the entire price spectrum. The Giandel 2000 watt modified sine wave inverter has two 110 AC outlets and one USB port. This model has both wired and wireless remotes for ease of control. At 3.7" x 9.1" x 15.9" the Giandel 2000 will not take up too much of your cab's precious space, but will still deliver all the juice you need. It's available online for $169.96.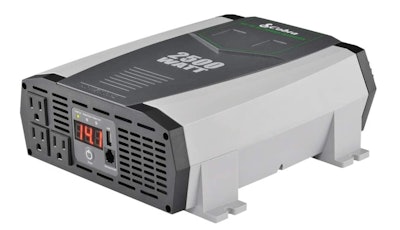 Like Giandel, Cobra makes a long line of power inverters so you ought to have one to fit your needs on and off the job. Suitable for trucking purposes, the Cobra PRO delivers 2,500 watts of modified sine wave power and is available online for $299.95. It offers four grounded three-prong AC outlets and two USB ports. A seven-color LED indicator displays battery voltage and current consumption. For your safety, the Cobra PRO has five levels of protection: over-temperature, reverse polarity, over-voltage, low voltage alarm, and low voltage cutoff remote.
The GoWise PS1004 3000 watt pure sine inverter is available online for $392. As a pure sine wave inverter, the PS1004 delivers clean electricity suited for sensitive devices like CPAPs, gaming consoles, tablets, and laptops. It has three three-pronged AC outlets and one USB port. For safe operation on the road, the PS1004 has thermal protection, overload protection, over-voltage protection, under-voltage protection, and a low voltage protection alarm. It also features a wired remote.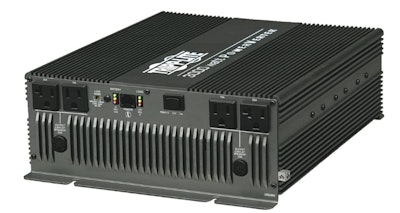 The Tripp-Lite compact power inverter delivers 3,000 watts to its four three-pronged AC outlets. It's available online for $576, and its automatic shutdown feature prevents battery drain. Tripp-Lite is part of the Eaton Corporation and has a long line of inverters suitable for just about every budget, including a 200-watt model that fits in your truck's cup holder and retails for just $55.95.
But, not all power sources need to be wired or plugged in to ensure your myriad devices perform properly. PowerDrive also provides self-contained power stations and power banks to ensure your smartphone has enough juice to provide all of the smart benefits you enjoy. Charge these before you leave home, and you have plenty of backup power while on the road.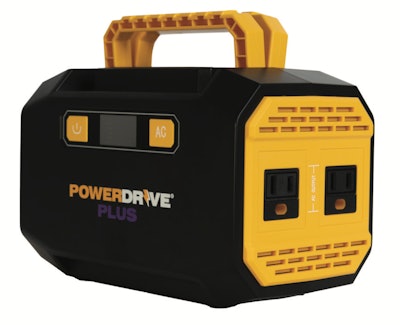 For a potent power supply both on and off your truck, PowerDrive has a 150- watt power station (45,000 mAh lithium battery) that will allow you to charge or run a variety of devices. It has two three-prong AC outlets to accommodate many appliances you'd plug into a wall socket at home. It also has two 3.1 amp USB ports, and a 12-volt port as well. It comes with a DC charging cable and a wall charger. For safety's sake, it has short circuit, temperature, and overload protection.
Jackery offers a full line of portable power stations suitable for camping, in-home emergencies, and, of course, on your truck. Prices range from $140 to $1,700 and deliver from 1,800 watts to 293 watts. The Jackery Explorer 1000 portable power station is an ideal addition to your truck. It can supply 1,000 watts of power to its two USB-C, two USB, one DC car port and three pure sine wave AC outlets. It weighs only 22 pounds, making it compact and portable. A solid handle makes for easy carrying. The Explorer 1000 features an easy-to-read LCD screen with charge/discharge data and battery life status for safety and ease of use. And, if you are home or camping, the Explorer 1000 can be recharged using optional solar panels. Available online for $1,099.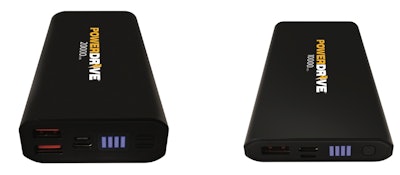 PowerDrive also has two new power banks, one has 20,000 mAh capacity and the other is 10,000 mAh. Each has two USB outlets and comes with micro charging cables. These are invaluable for the over-the-road driver or one who runs locally. They ensure your smartphone always has sufficient power so you are never out of touch. And, they are conveniently sized so you can carry them with you even when you have to leave your truck.
Mophie has a number of portable chargers, including this wireless one for Qi-enabled devices. This charger has a 10,000 mAh internal battery and 18W USB-C PD fast charge. It also has a USB-C PD port and a USB-A port. It can deliver more than two full charges to your typical smartphone and weighs less than half a pound, so it is easy to carry in a pocket. Available online for $69.95.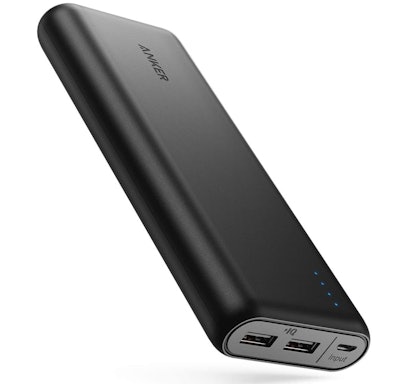 The Anker PowerCore 20 ultra high capacity power bank delivers 100mAh with 4.8A Output and PowerIQ technology. Ideal for a trucker's life on the road, the PowerCore20 can refill a Galaxy S8 smartphone five times or an iPhone 8 almost seven times. And, it recharges itself in just two hours. With surge protection, short circuit protection, and other advanced safety features, the PowerCore 20 keeps you and your devices safe. Available online for $49.99.
Here are several quick questions to answer to make sure you get all the power you need in an inverter and that it meets your devices' requirements safely:
1. How many watts do you need? Most manufacturers and reviewers say to add up how many watts each device draws (you can nd that on the devices and/or in their manuals) if all are plugged in at once, then add some more onto that. Others suggest doubling the requirement of your most watt-hungry device.
2. Pure sine vs. modified sine wave? Pure sine is clean, consistent power, the sort needed by laptops, CPAP machines or gaming consoles. Modified sine wave power is OK for use with less sophisticated equipment.
3. How do you plan to use an inverter? If you just want to ensure your smartphone is fully charged, you can get by with a modest, low-wattage inverter. If you expect to use electrical appliances for meals e.g. microwaves, slow cookers, frying pans then you need one with more muscle. Just do the math before you buy.
4. How good a technician are you? In the realm of technical installations, adding a power inverter to your truck is on the less demanding side. However, it's still worth in peace of mind whatever you pay to have a technician install your inverter. Be sure they place it someplace convenient, clean, and with adequate ventilation.
5. How much do you want to spend? Price is generally a consideration for any addition to your truck no matter how beneficial. Luckily, you can find inverters with similar features and about the same amount of wattage at various prices, and certainly, one to fit your budget.
Like the market for other gear aimed at professional drivers, the one for power devices in your truck is vast. With a little study, you can nd an inverter, power station or power bank that meets your personal needs that also fits within your spending comfort zone.