Redesigned with improved hardware and Rand Navigation, the second-generation OverDryve 8 Pro II is an 8-inch, all-in-one truck GPS, tablet, dash cam, and satellite radio.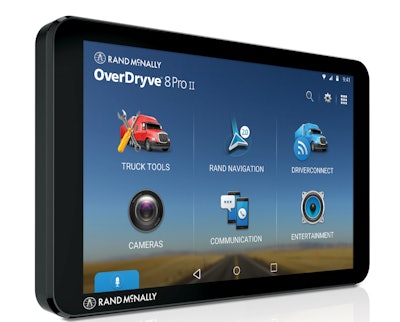 The upgraded Rand Navigation features 33% more truck-specific road data than other GPS providers. It delivers advanced truck routing with map graphics that can be overlayed with weather, traffic, and fuel prices along the route. It also provides other driver assistance tools such as advanced lane guidance, toll costs, warnings, fuel logs, and more. 
The OverDryve 8 Pro II has a fully adjustable built-in dash cam with loop recording and an integrated G sensor. It can be moved and positioned to record an optimal view. 
A smart "slice" in the mount includes a built-in SiriusXM® receiver, enabling the OverDryve 8 Pro II to serve as a SiriusXM® satellite radio. 
The OverDryve Pro II works with a smartphone's built-in voice assistant such as Siri or Google. Using the voice assistant, the device will play music, make calls, and more. Connect the OverDryve 8 Pro II to a smartphone to respond to texts and calls, all hands-free. 
The device is pre-loaded with the Rand McNally fleet management app so the device is ELD-ready.
The OverDryve 8 Pro II is available at travel centers, big box stores and online for $509.99.