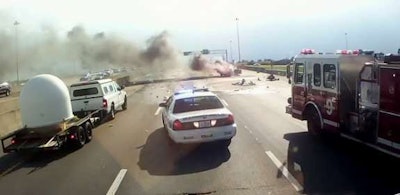 The driver of a truck on I-10 in Biloxi, Miss. saved a woman and her granddaughter last week after the woman's Lincoln Towncar struck another 18-wheeler while attempting to merge on the highway and burst into flames.
According to multiple accounts, David Fredericksen was listening to the Fox News Channel and driving behind the two vehicles and captured the wreck on his dashboard cam. He quickly grabbed his fire extinguisher and rushed over to the vehicle. He pulled the driver and her 1-year-old granddaughter out of the burning car. The woman suffered a broken leg in the crash.
The video of Fredericksen's heroics exploded on YouTube where it was posted multiple times and accumulated more than on million views quickly.
See for yourself.