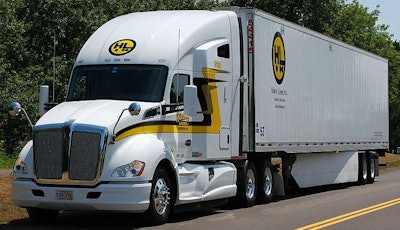 As the saying goes, "You can talk the talk, but can you walk the walk?"
Halvor Lines, Inc. a truckload carrier on the western shore of Lake Superior in northern Wisconsin, definitely walks the walk, and is making it easier for its drivers and other employees to really walk it.
Thursday, Sept. 18, Halvor opens its new walking path at its terminal. The celebration includes a belt cutting ceremony with Rolling Strong President Bob Perry, a 5K Wellness Walk for employees and its first ever employee wellness fair.
But, having healthy drivers behind the wheels of its trucks is not just a one-day thing for this winner of "Best Fleet to Drive For" awards in 2012 and 2013. It's a full-time thing, especially for Becca Matthews, Halvor's resident health and wellness coach.
A nationally certified personal trainer and nutrition coach, Matthews works with Halvor drivers on a variety of wellness issues. All drivers receive nutrition coaching during new hire orientation, a free health club membership and a nutrition and exercise program delivered over their QualComm system while they are on the road. Halvor drivers also receive Rolling Strong's in-cab FIT system.
Matthews' work has paid off: Halvor drivers have lost a total of 2,100 lbs. in the last year and a half.
"We believe in supporting our drivers in all aspects of their job," said Jon Vinje, president of Halvor Lines. "From training, education and activities like our walk, wellness fair, and on-going wellness initiatives with our in-house wellness coach and tools like Rolling Strong's FIT System, we are making a difference in our drivers' lives."
Those drivers cover Halvor's primary routes in the Midwest, the South, southeast and Eastern U.S. and several Canadian provinces. Most are on the road between five and seven days – sometimes 100 – and home for two days off.
Halvor has dry van and flatbed divisions (A sister company, Sue Vinje Trucking, also in Superior, Wisc., operates refrigerated trailers.) with 310 power units and 850 trailers.
The majority of the Halvor fleet is Kenworth model T680 and Volvo models 730 and 670. All are equipped with factory installed refrigerators and invertors along with automatic transmissions. All tractors are equipped with Qualcom for communication, electronic logs and in-cab scanning.
The van trailers are 53-feet, 102-inches and are a mix of Utility, Stoughton & Wabash. The flatbed trailers are 48' spread axle Utility.
Halvor Lines offers opportunities for company drivers pulling either van or flatbed trailers.
Company drivers are paid mileage plus bonuses and accessorial charges. They have a benefit package that includes, among other things, health, dental and life insurance, paid vacation, 401K with match and assigned tractors.
Halvor has some owner-operators leased as independent contractors.