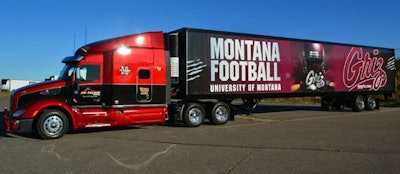 The University of Montana Grizzlies football team has a new teammate this season: Jim Palmer Trucking (JPT).
The Missoula-based fleet is transporting the team's equipment and supplies for the its six road games using a 75th anniversary Peterbilt paired with a custom-wrapped Grizzly trailer.
"Jim Palmer Trucking and my family are very excited to have the opportunity to work with the university and Grizzly football team," said Darrel Wilson, owner of Jim Palmer Trucking. "This reestablishes a long-standing relationship between JPT and the University of Montana and starts a new one between our family and the university."
The company, which has 175 trucks in its fleet, agreed to donate the services of its truck and trailer to transport the team's equipment at no expense to the university. The company also is a corporate sponsor of Grizzly Athletics and has endowed a scholarship for a student-athlete at the in memory of Wilson's son, Clark.
Jim Palmer Trucking is owned by Wil-Trans, a Missouri-based fleet. Wil-Trans, which has 185 trucks in its fleet, bought JPT in March.
Company drivers are in 2015 Freightliner Cascadia Evolution trucks with APU's.
Compensation for company drivers includes:
42 cents per mile plus fuel incentives
$10,000 longevity bonus after 5 years of service
Fuel Bonus paid weekly
Paid vacation
Per diem
Safety bonus
Driver referral bonus
Rider program
Pet program
Health, dental, vision Insurance
Life and disability insurance
Individual assigned fleet manager
24/7 roadside assistance
Owner-operators leased to JPT receive similar compensation. They have a choice of driving either a 2015 Peterbilt 579 or 2015 Freightliner Cascadia Evolution. Both have APUs.
Meet the Grizzlies