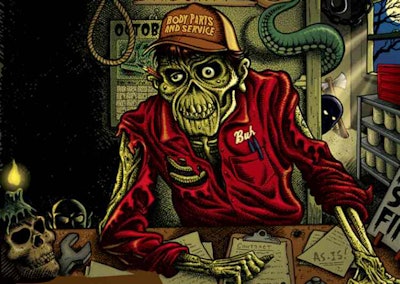 Truckers News is curious about the strange, otherworldly, spine-chilling things you have seen as a driver.
Maybe it was something alongside the highway you saw out of the corner of your eyes, a vision you couldn't quite identify, something spooky.
Or it could have been something you saw clearly as you drove, but couldn't – or didn't wish to – fully comprehend.
Then again, it might have been that eerie, unsettling feeling when you know something is wrong and you want to be someplace else, and quickly.
Tell Truckers News about all of your spooky experiences for Haunted Highways, and share all those you have heard others talk about.
We want to hear about the haunted highways you have driven, the ghosts you may have seen, the places you have been that "creeped" you out. And, the tales others have told you over a late night cup of coffee at a truck stop as well.
Tell us about phantom truckers, mysterious hitchhikers, cars that were there and then suddenly gone or that stretch of highway that always gives you the chills. The spookier the better. We'll leave the lights on.
Share your tales of terror here.
Then watch for Haunted Highways at Halloween.