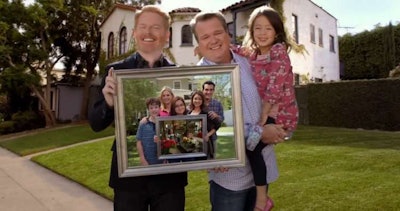 The next big TV hit could well be a comedy set, in of all places, a truck stop in Kansas.
Several Hollywood media outlets are reporting that Big Stop, which is being produced one of the stars of ABC's Emmy award-winning show Modern Family, is expected to be coming to ABC. No release date has been set nor cast members mentioned.
Eric Stonestreet, who plays Cameron Tucker on ABC's Modern Family, is developing the show that is in production at 20th Century Fox Television. Jerry Collins, a writer for The Bernie Mack Show, is an executive producer for Big Stop.
The idea for Big Stop reportedly came from a visit Collins had with Stonestreet one Fourth of July in Kansas, where the Modern Family star grew up and went to college. They are said to have discussed ideas for a workplace comedy.
Stonestreet has said:
"Truck stops are the airports of the highways where all sorts of characters with their stories come through. It is relatable, no matter if you're a businessman or politician or a regular guy, we all find ourselves at a truck stop at one time or another."
This would be his first time behind the camera.
Stonestreet has won two Best Supporting Actor in a Comedy Series Emmy Awards (2010 and 2012) for his portrayal of Cameron Tucker, one half of a gay couple on Modern Family. He has also starred on CSI: Crime Scene Investigation, and appeared in a long list of TV shows including The West Wing, Bones, Monk, NCIS and Nip/Tuck.
An alumnus of Chicago's Second City Training Center, he has appeared in several movies: Almost Famous, Identity Thief, Bad Teacher and will be the voice of "Duke," a canine character in a yet-to-be-named animated feature to be released in 2016.
Oddly enough, one of Stonestreet's movie roles was as "Ed the trucker" in the 2005 sci-fi thriller, The Island.
This will not be the first time, a truck stop has been featured on TV. Life at the Midway Travel Plaza in Columbia, Mo. was featured for two seasons ina reality show on the Travel Channel. It debuted in 2011 as Tuck Stop Missouri but returned in 2012 as Truck Stop USA.
Big Stop will enter a limited lineup of trucking-themed TV shows that includes: