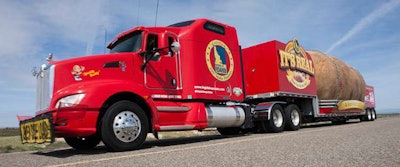 WANTED: Experienced, highly skilled driver for specialized oversized load. Has to be good with public and press, like crowds and special events. MUST like potatoes. BIG potatoes.
Would you respond to a "help wanted" ad like that if you saw it? If so, the Idaho Potato Commission wants to hear from you.
The commission promotes one of the best-known crops grown in America: Idaho potatoes. Part of how they do that is to show up at large special events – NASCAR races, the Pro Football Hall of Fame, Kentucky Derby, state fairs – with a six-ton potato on a flatbed.
This will be the fourth year the Big Potato Truck has been on tour.
Martin says the driver who is selected will drive a 2008 Kenworth with a specially outfitted Western flatbed from event to event to help promote the state's special spuds. In all, the rig is 72 feet long and 12 feet wide.
"This is a unique position, says Martin. "This is more than just about driving. Its also marketing and public relations. The driver is the person that news crews want to talk to. They're treated like rock stars."
When the Big Idaho Potato truck was at Bristol Motor speedway for the NASCAR race this year, the truck's driver was signing autographs just like the racers.
Martin doesn't expect applicants for this special gig to be public relations experts and great at public speaking. She says there is training for that once the right person is hired.
Candidates will be interviewed via Skype and then in person with representatives of the commission.
If you think you're the right person for the job, you can contact Martin by email (laura@bigidahopotato.com) for more details.
See how the truck was assembled …

See how the truck got lost …