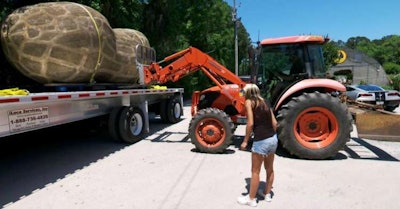 Season 7 of Shipping Wars gets under way tonight hit the road (10 p.m. Eastern/9 p.m. Central), and one of its stars is more than ready for it.
Marc Springer, the outspoken and outgoing professional trucker with the most famous mustache on television, was wrapping up some post-production work for the episodes that begin airing tonight when we caught up with him.
He says he is pleased to be part of the show and says he has learned enough that he may like to create something on his own in the future.
"This has been really great," said Springer. "The show has been great exposure for me and my company (Snortin' Boar Transport in Seattle). It has opened a lot of doors for me and I have learned a lot about this business."
Yet, he still sounds a bit puzzled about the success of the show, which utilizes shipments on uShip, the Austin, Tx. company that operates an Internet-based marketplace for shipping services.
"I sometimes just don't get it," says Springer, whose career path has included selling Harley Davidsons, being a dive instructor and working for Shell in the Australian outback. "As I travel around the country, people come up to me all day long and tell me how much they love the show. And, that's great.
"But, I'm a professional truck driver. I run a Class 8 truck, and I work hard to portray the reality of trucking. But, that's not really the recipe of the show. I know we're making a television show for entertainment purposes. And, the public buys in and that's great. If the public didn't like it, like the show, we wouldn't continue."
Springer wouldn't divulge too many details, but says that after shipping wars he may just continue in the entertainment business. He says he is considering a venture of his own, maybe something involving the trucking and marine industries. Whatever it is, Springer says he wants to have control of it.
Springer confesses he has only seen "rough cuts," parts of the episodes as they are being put together. But, he says he is pleased with what he has seen.
He says there will be more of what keeps viewers tuning in: some outrageous items to haul, a little humor, a bit of drama and the competition among the drivers.
Show A Success for uShip Too
Shipping Wars has also been a big plus for uShip.
"Shipping Wars has definitely given national, even global, exposure to uShip's brand," said Dean Jutilla, VP of marketing communications at uShip. "We continue to see bumps in traffic and registrations during both new and repeat episodes, and our social media, blog, and search traffic all see increases.
"But beyond that, Shipping Wars has let millions of people discover there is an easier, more affordable way to ship their large items. Most people don't know where to start this process. They're stumped. And we're not just talking the crazy stuff seen on the show. We're talking cars, boats, motorcycles, households, freight, heavy equipment and more. Seeing uShip featured on Shipping Wars let's people know they can start their own shipping war and this ultimately benefits the carriers booking shipments on our marketplace."