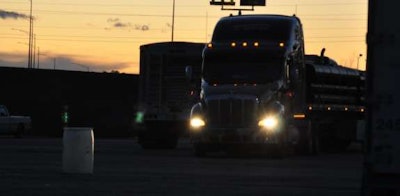 With the stroke of the Presidential pen, parts of one of the most controversial pieces of trucking regulation changed, if only for a while.
President Obama Tuesday signed a 2015 spending bill passed by the Senate Saturday night that included a rollback of two parts of federal hours-of-service regulations. Suspended until Oct. 31 of next year are:
The requirement that drivers' 34-hour restarts include two 1 a.m. to 5 a.m. periods
The provision that limits the use of the restart to once per 168 hours (a week).
It also requires a thorough review the regulations.
Here's what the Federal Motor Carrier Safety Administration (FMCSA), the agency that oversees these regulations, says:
"FMCSA is preparing a Federal Register Notice, that will also be posted on our website, to advise the public that it is suspending enforcement of the restart restrictions as required by law. We are also working to ensure that the 12,000 state and federal motor carrier enforcement personnel are prepared to revert back to the previous restart."
Not surprisingly, the trucking industry is pleased with the change, while opponents of the change are not.
The American Trucking Associations (ATA) called the hours-of-service changes a "common sense fix to two unjustified provisions." ATA President and CEO Bill Graves adds:
"We have known since the beginning that the federal government did not properly evaluate the potential impacts of the changes it made in July 2013. Now, thanks to the hard work of Senator Susan Collins and many others, we have a common sense solution. Suspending these restrictions until all the proper research can be done is a reasonable step."
Sen. Collins, a Republican from Maine, included a rider in the funding bill to roll back the hours-of-service provisions.
But, reverting back to the old rules may not be easy for everyone. Steve Keppler, head of the Commercial Vehicle Safety Alliance.
Carriers and drivers should expect varying enforcement of the rules nationwide, Keppler says, especially in the immediate aftermath of the changes become official.
"People can't just turn on a dime when something like this takes place," he says.
State enforcement representatives enforce state law, technically, not federal law. In many states, federal law is adopted automatically. In others, that's not so.
"They have to go through some in-state processes, so we're likely to see inconsistency and uniformity issues for a while –- that's got implications for data quality and CSA," says Keppler.
Electronic logging devices and other e-log applications are also programmed for the 2013 rules. Updates reflecting the new rules could take a few weeks, says Omnitracs' Tom Cuthbertson.
Until then, e-log applications may flag drivers for a violation if their restart periods don't align with the soon-to-be-suspended rules.