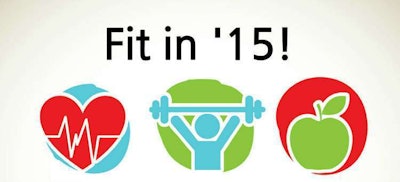 While stopping at a truck stop is not exactly the same as going to the gym, it's getting a lot closer for at least one company.
In 2011, TA/Petro created its StayFit program, which offers truck drivers the opportunity to exercise, eat and snack healthier and also get helpful information that they can use to assist them live healthier lives.
The Ohio-based company plans to expand its fitness/wellness offerings in 2015.
"As a company, we are advantaged by having larger facilities and company run sit down dining (for example) to offer the most comprehensive set of health related options for professional drivers than anyone," said Tom Liutkus, vice president for marketing and public relations for Travelcenters of America. "We are known throughout the driver community for this advantage. We really felt at the time we designed StayFit that each important plank of diet, exercise and information had to be addressed so we allowed our guests the best chance of succeeding in their quest to live healthier."
Liutkus explains what the company has done:
Exercise
We have built over 50 fitness rooms inside our facilities that are free to truck drivers to get exercise. The rooms typically have a stationary bike, and elliptical training station, and a comprehensive pulley/weight machine. They gain access to these rooms by swiping their UltraONE rewards card (again no fees) much like you do with your room key at many hotel fitness rooms.
We created running/walking trail maps at over 120 locations so a driver can exercise outside of the location. The maps will typically feature routes along nearby roads and streets that offer a logical way to walk or run and gain exercise. Maps are available at each of the participating locations.
We have built 4-5 outdoor fitness stations at locations where we did not have room for an indoor fitness room. These are similar to fitness stations you would see in local parks where you can do sit-ups and other calisthenics.
We installed basketball poles/hoops/courts at nearly 30 locations. This was a driver-based idea and was very easy for us to do.
Diet
Each of our restaurants (Country Pride and Iron Skillet) offers several items that are better for your choices. The StayFit icon identifies them. In addition, we offer substitution hints with specific meals that would qualify them as better for you. For example, we might suggest substituting broccoli instead of the standard baked potato and bread with a baked chicken dinner or steak dinner. That way, a green vegetable accompanies lean meats and carb intake is greatly reduced.
In our travel stores, we also have offered the StayFit symbol on shelf tags for better for you snacks. These items are already noted by their manufacturer as reduced calorie, fat, sugar or carb or enhanced protein. Some of the typical items are protein bars, granola-based snacks and other items like that. And of course, we offer bottled waters, yogurt, fresh fruit and also freshly prepared salads and sandwiches that offer the same healthier benefits.
Information
Our on site Road King Magazine offers a column with each issue that discussed health tips from industry experts like Siphewe Baleka (Prime's fitness guru).
Our restaurants have offered StayFit brochures and pamphlets that have offered information like:

How to read nutritional labels and count your caloric and nutritional intake
How to substitute when eating out to have a healthier
How to eat a balanced, healthier meal day in and day out

We have a number of locations where medical clinics, chiropractors and other health related services exist.
We host numerous health fairs with noted partners like the TCA and folks like Bob Perry (Rolling Strong) so drivers can seek information, take part in fun exercises, learn about their health related vital statistics and more.
Liutkus said TA/Petro, like many truckers, is planning an even healthier year ahead.
"In 2015, we will be offering health related products like exercise monitoring devices (wrist bands, arm bands and the like) and a wide assortment of fitness products that drivers can purchase to add to their focus on better health," said Liutkus.
"In addition, our plans for 2015 include that all of our locations will be installed or be covered by at least one fitness option. That means the site will offer either a fitness room, outdoor fitness or running/walking trail at a minimum.
"But what's really exciting is the simple way we are going to add fun, physical activity options for our professional truck driving guests. We are in the process of ordering and installing horseshoe pits, beanbag toss stations and other outdoor game options that drivers can do instead of sitting even more hours than they need to while visiting our locations.
"We look forward to this because we believe this will not only create a fun way to be active but will also create an atmosphere of camaraderie among fellow drivers. Those benefits will create for better mental outlook and enhance a feeling of community among fellow truck driving friends. We are really excited about that potential."