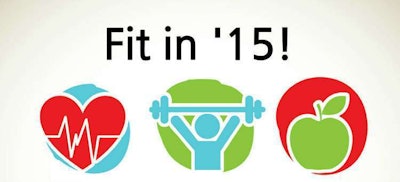 If you made a New Year's resolution to have a healthier life in 2015 than you did last year, good for you.
If you already broke that resolution, so what? Now's the time to start over.
Either way, Trucker's News is giving you a little bit of help. To help become Fit In '15, we've asked some experts for their best advice. We asked them all the same six questions, and you'll see their answers here for the next several days.
These are folks who know healthy living, wellness, fitness, exercise and proper eating. And, most importantly they know and work with truck drivers like yourself. They understand the demands of your job and the limits it imposes on your ability to get and maintain a healthy lifestyle.
We begin with Becca Mathews, health and wellness coordinator of Halvor Lines, which is based way up north in Superior, Wisc.
If you could get America's truck drivers to take one positive step towards improving their health and wellness in 2015, what would that be and what should they do to accomplish it?
This can be individualized based upon what their goals are, but starting simple is always best. Begin with setting a goal for yourself whether its walking 15 minutes a day, or cutting out all pop, or drinking more water and then write that goal down. Place it in the truck somewhere you can see it on a daily basis.
If you visually see the goal, it gets your mind thinking about it and, therefore, the chances of you acting on it increases.
What should drivers do to create realistic health and wellness plans, and achieve them in 2015?
Start simple. Often times when I ask a driver what their goal is they give me a broad answer such as wanting to lose 100lbs or 50lbs. This is great, but I always ask how are you going to achieve this? You want to make sure your goal is realistic and achievable! Setting smaller goals to get to your big goal is much more effective because they are more achievable. This also allows you to feel a sense of accomplishment. Begin with setting three smaller goals. For example, it may be as simple as reading nutrition labels and recording your food down for one week. Or maybe you decide to cut out all fried foods for a month, or add in 15 minutes of walking every day for 14 days. Be time specific with your goals.
What is the most exercise/fitness step can drivers take in 2015 to maximize their wellness/weight loss goals?
Get up and exercise!! I cannot stress enough the importance of your body needing movement every day. It's even more important in this industry as drivers are much more sedentary. Start with walking a lap around a truck stop or doing bodyweight exercises in your truck.
Exercise will give you a boost of energy, help with stress, and increase blood circulation. If you haven't done any exercise in a long time again start simple. Maybe shoot for walking 5 minutes a day and once you master that then increase by 2 minutes each week until you can achieve 30-45 minutes a day.
Halvor Lines recently invested in the Fit System and Fit Stepper made by Rolling Strong. These two products combined allows our drivers to get some cardiovascular exercise in the comfort of their own cab as well as some resistance band exercises to help tone their upper and lower body. Since our company is located in the Midwest it is especially nice for our drivers to have an alternative to walking outside when it's extremely cold. Any driver interested in these products and order them through rollinstrong.com.
What are the most important eating/dietary step drivers can take next year to achieve those goals?
Cut out as much processed food as possible. Eat more "real" food. Read the ingredient and nutrition labels. The more ingredients listed then the more processed it is. We are now starting to see some travel plaza's putting in fresher foods such as salads, yogurts, hummus with pretzels, and fresh cut fruits and veggies. Also stock up on raw nuts, hard boiled eggs, tuna in water, and low sodium jerky.
Keep in mind that if drivers continue to purchase the healthier options then more and more will be available!
What will you focus on in 2015 with the drivers and others you work with to help them have a healthy 2015?
I am going to continue on with improving the nutrition and health of our drivers. In 2015 I really want to teach our drivers how to prepare fresh and healthy meals in their trucks. Halvor Lines provides refrigerators and freezer in almost all their trucks as well as inverters which allows our drivers to carry fresher foods, use microwaves, slow cookers, and George Forman grills, ect. In addition, I am looking to implement more stress reduction strategies for our drivers.
What is (are) your own health/wellness goal(s) for 2015?
My 2105 goal is to continue the process of treating my body with respect by keeping it properly hydrated with water, fueled with healthy foods, and relaxed with practicing yoga twice a week.