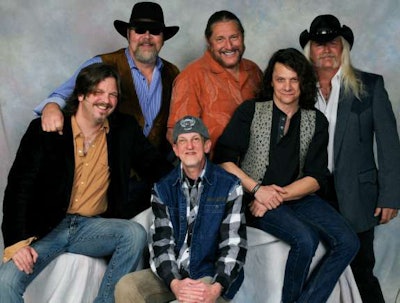 One of the longtime pillars of Southern rock/country headlines the free concert presented as part of the 2015 Mid-American Trucking Show (MATS) in March.
The Marshall Tucker Band performs Friday, March 27 in the concert sponsored by Mobil Delvac. Opening the concert in Freedom Hall of the Kentucky Exposition Center is singer/songwriter Chris Hennessee.
Complimentary tickets to the concert will be distributed, while supplies last, from the Mobil Delvac Booth #18160 in the North Wing during show hours. This is the seventh consecutive year that Mobil Delvac heavy-duty diesel engine oil will present the free concert for MATS attendees.
Formed in Spartanburg, SC in 1972, Marshall Tucker helped lay the groundwork for what was to become Southern rock. Their self-titled debut album (produced by Bruce Hornsby) was released in 1973 and was recognized with a gold album two years later.
Since then, the band – with a long list of personnel changes – has toured continuously and produced some 28 albums. Heard It In a Love Song, was Marshall Tucker's most successful single, topping out at 14 on the Billboard Ho 100 chart.
Hennessee has recently been performing with The Jamey Johnson Band and playing select tour dates across the nation. He'll perform, among others, his songs Georgiana, Better Days and the acoustic ballad, Red Dress.
"Once again, we're excited to host another talented line-up of country and Southern rock musicians," said Toby Young, president of Exhibit Management Associates, producers of the Mid-America Trucking Show. "Mobil Delvac is bringing another great event to MATS and we know that our attendees will appreciate the free concert as much as MATS and Mobil Delvac appreciate them."
MATS is being held March 26-28 at the Kentucky Expo Center in Louisville, KY, the show attracts 70,000+ attendees and 1,000+ exhibitors from throughout the United States and abroad.
Here's a bit of musical trivia: According to the entry on Wikipedia, "The 'Marshall Tucker' in the band's name does not refer to a band member, but rather a Spartanburg-area piano tuner. While the band was discussing possible band names one evening in an old warehouse they had rented for rehearsal space, someone noticed that the warehouse's door key had the name "Marshall Tucker" inscribed on it, and suggested they call themselves the "The Marshall Tucker Band," not realizing it referred to an actual person. It later came to light that Marshall Tucker, the blind piano tuner, had rented the space before the band, and his name was inscribed on the key."
Marshall Tucker Band circa 1991

Chris Hennessee Red Dress