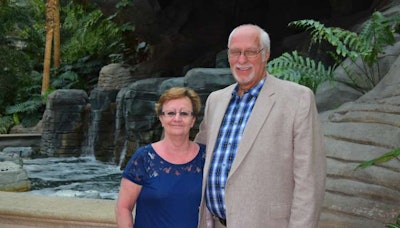 Gary Teel, a veteran driver for Weinrich Truck Line of Hinton, Iowa, is this year's winner of the Truckload Carrier Association's (TCA) Company Driver of the Year Award, which is sponsored by Love's Travel Stops and Cummins.
He was presented with his award and check for $25,000 Tuesday, March 10 during the TCA's annual convention in Florida.
The TCA and Loves' and Cummins also honored an Owner/Operator of the Year at its conference. The winner was Thomas Miller, who drives for Prime. He too received $25,000. Read Overdrive's story about Miller.
Teel grew up on a farm in western Iowa, and like every good son of the soil tried his hand at the family business.
"I tried," says Teel. "I just couldn't go slow up and down the fields, I guess." He adds he knew he could never have worked "cooped up inside a factory" either.
So he got into trucking and started out hauling cattle and grain. He then spent 10 years running flatbeds coast-to-coast and then joined Weinrich 27 years ago.
Today Teel hauls food-grade products – soybean oil, canola oil, chocolate – mostly throughout the east, southeast and as far west as Denver with a 2015 Freightliner Coronado.
During his long career, Teel says he had driven between 4 and 5 million accident-free miles, 3.5 million of those for Weinrich.
How'd he do it?
"You've just got to be patient," says Teel. "You've just got to take your time."
He adds, "And, it takes some luck too. It's a challenge every day. But, you have to have a good attitude, and you can't go out and think you know it all."
Teel has been married to his wife Connie for 45 years. They have four daughters and seven grandchildren.
The other two finalists for the award were Johnny Chestnut, who drives for Saddle Creek Logistics of Florida, and Danny Smith, who drives for Big G Express of Tennessee.
"This is a unique opportunity to give back to professional truck drivers and show them how much we, as an industry, value them," said Jon Archard, Love's vice president of sales. "Love's is honored to show our appreciation for the hard work they do day in and day out."
"The professional truck driver is an essential part of the trucking industry that helps contribute to the nation's economy and to the everyday lives of all of us," said Amy R. Boerger, general manager, North American Engine Business for Cummins. "We are honored to be able to take part in honoring them."