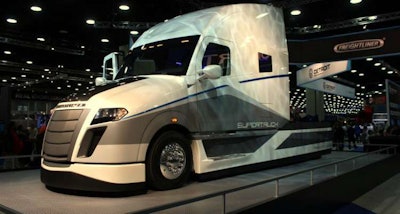 Another edition of the Mid-America Trucking Show (MATS) is in the record books, and it was four days of news, awards, seminars and a fleet's worth of trucks that filled the Kentucky Expo Center in Louisville.
And, of course, MATS was the place to be if you wanted to see trucks.
Award Winners
During the course of MATS a number of truck drivers were honored for their professionalism on the road, their contributions to their communities and highway heroics.
TA Petro gave the second annual Citizen Driver Awards to five people, recognizing them for their sterling careers and what they do for others. The winners were:
Richard Ash, an owner/operator from Lakewood, Colo.
Gary Buchs, an owner/operator for Landstar from Colfax, Ill.
Robert Fernald, from Westbrook, Me., who drives for Walmart Transportation
Sandy Long from Marceline, Mo. who drives for Weston Transport
Michael Sheeds, from Bandera, Tx., who drives for Werner
Goodyear recognized three drivers for their highway heroics. Clinton Blackburn of Moorhead, Ky. was honored by the company for rescuing Spencer County jailer Darrell Herndon, whose car was in the median and he was being strangled from behind by a prisoner.
Also honored by Goodyear were David Frederickson of Windemere, Fla. and Mack Guffey of Gainesboro, Tenn.
Company Announcements
One of the highlights of the annual gathering is the long list of new products and changes to existing ones, and there were plenty at this MATS. Among them:
Big (Hungry) Winner
Possibly one of the luckiest folks to visit MATS was Roger Errett of Mount Pleasant, Penn. Errett left the show with a set of 10 Bridgestone Dayton commercial truck tires valued at USD $3,000. He won them for winning the buffalo-wing eating competition, finishing off three pounds of chicken wings in 10 minutes.