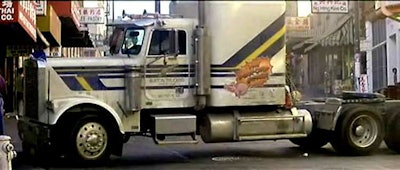 There's Big Trouble In Little China again, and this time Dwayne "The Rock" Johnson is the trucker who takes it on.
Several Hollywood trade journals are reporting that plans are in the works to remake the martial arts movie that was a financial flop in 1986, but went on to become a cult favorite, especially with the trucking community.
San Andreas
, will play Jack Burton, the mouthy, semi-hero trucker who helps a pal save his girl from thugs and a scary sorcerer in San Francisco's Chinatown.
The Hollywood business magazine The Wrap, also reports Big Trouble In Little China is a favorite movie of Johnson's.
No word yet as to what make, model and year of truck will portray The Pork-Chop Express — a 1985 Freightliner FLC-120 — driven by Kurt Russell in the original movie.
Here's a little BTILC trivia: two actors with much bigger names than Russell were considered for the role of Jack Burton but were too busy to be in the film. They were Clint Eastwood and Jack Nicholson.
See Jack Burton's best lines from the movie …