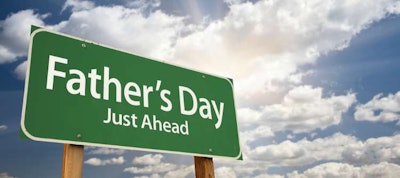 Sunday is Fathers Day, and of course you'll want to give your dear ol' truck driving dad something he will appreciate and use. Here are a few suggestions that could make life on the road a bit more enjoyable for him.
Time for dad to step up his game when it comes to his on-road wardrobe? You can give him a hand with a work shirt with some pizazz from Over The Road Apparel. This shirt, called "The Duke" is a western style button down with two front snap pockets. Another nice feature of The Duke is that it's cut longer in front and back so, as the folks at Over The Road say, "… so you're never worried about a full moon when it's only 2 past noon." $33.99 online.
Staying organized on the road is never easy. Bucketboss calls this its Contractor's Briefcase, but, personally, we think it could just as easily be renamed for truckers. This is one rugged bag. It's made of 600D ripstop material, and has plenty of pockets of all sizes. It can lug your laptop or tote some hand tools; there's even a sleeve for a tablet or e-reader. And, get this, it has 15 interior pockets to make sure nothing gets lost. 16″ x 6″ x 12.5″ $49.99 on Amazon.
Nothing fuels a drivin' dad like coffee. Hot coffee. The problem with most travel mugs is that they keep your favorite beverage hot only for the first few miles when you need it good and warm to the last sip. The Yeti Rambler dos that (or keeps cold drinks cold). And, it's big, like the mythical abominable snowman for which it is named. Made of stainless steel with double-wall vacuum insulation, this mug holds 30 ounces, enough for a long haul. $20 at REI.
With a laptop, a tablet and a smartphone, even the most teched-out dad needs to write something down on paper. These handy, durable 3 1/2″ x 5 1/5″ (the size of an index card) 48-page notebooks from Field Notes are perfect for jotting down a quick phone number or other reminder. They come in grid, lined and unlined. A three pack is $9.95 online at Field Notes. Be extra thoughtful and pair them with an ultra-reliable Space Pen. $19.75.
What better way to tell dad you love him than by making sure he's safe on the road with this RoadPro reflective safety vest and hi-vis gloves set? The vest is lightweight, fits over jackets or other clothing and is fluorescent orange with reflective stripes. (ANSI/SEA 107-204 Class 2 Compliant) The gloves have leather palms fingers and fingertips, and are made of yellow and orange hi-vis yellow and orange material. $16.95 online at NeoBits.
If dad is a reader, it may be time for him to enter the 21st century with an e-reader, and a good one comes from Amazon. A truly handy model is the 6″ Kindle, about the size of a paperback book. It's wifi enabled so dad can download books from Amazon. It has a touchscreen display and a long-lasting battery. $79 online at Amazon.
Here's a great way for dad to share his driving adventures with you and the rest of the world: a Cobra CDR 900 dash cam. There's a slew of dash cams on the market — many priced far less than the CDR 900's $207.99 at Best Buy — but this one is loaded with features. Plus, it is wi-fi enabled so dad can share his videos straight to YouTube, or better still, to Overdrive's Dash Cam Central. The wi-fi also allows it to connect and stream live and recorded footage directly to dad's iOS or Android device. Other features: motion sensor for automatic recording, G-Sensor, which senses sudden acceleration and collisions to automatically capture and protect footage if, God forbid, dad is in an accident. Includes 8GB memory card.