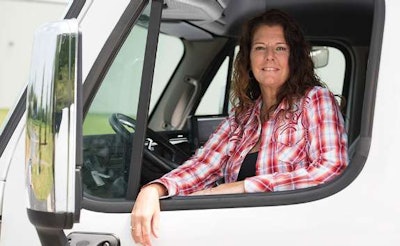 Joanne Fatta is a survivor in several senses of the word.
Fifteen years ago, the now 51-year-old driver from Lancaster, Pa. was a single mom looking for a new career. Since then, she has carved out a place for herself in a demanding, male-dominated profession. And, Fatta was diagnosed with and treated for breast cancer.
Today (Aug. 29) at 10 a.m. this company driver for Sunrise Transport will be crowned Overdrive's Most Beautiful Trucker. Ceremonies will be held in the GATS Theater at 10 a.m. during the Great American Trucking Show at the Kay Bailey Hutchison Convention Center in Dallas.
Saturday's show hours are 10 a.m. to 5 p.m.
[gtbutton link="http://www.overdriveonline.com/joannes-journey-overdrives-most-beautiful-winner-overcomes-hurdles-to-set-a-standard-for-truckings-image/?utm_source=daily&utm_medium=email&utm_content=08-24-2015&utm_campaign=OVD&ust_id=91d3f0dbb2″]See Carolyn Magner's Profile of Joanne Fatta[/gtbutton]
Also today at GATS, the winners of another contest — Overdrive's Pride & Polish — will be crowned. The national champions will be named at 11 a.m. in the GATS Theater. The ceremony is preceded by a 10:45 a.m. performance by the winner of the trucker Talent Search Contest.
The Landstar Fit for the Road Health and Wellness Pavilion lineup for the day includes:
10:30 – 10:55 a.m. : Cooking Demo, brought to you by RoadPro® Family of Brands
11:00 – 11:25 a.m. : 30-Day DOT Diet
11:30 – 11:55 a.m. : Cooking Demo, brought to you by RoadPro® Family of Brands
12:00 – 12:25 p.m. : Landstar Jeopardy Game Show
12:30 – 1:25 p.m. : Eating Strategies on the Road

1:30 – 1:55 p.m. : Aid on the Road: The Misadventures of Jon Osbourne

2:00 – 2:25 p.m. : Cooking Demo, brought to you by RoadPro® Family of Brands
2:30 – 2:55 p.m. : How to Stock Your Cab Nutritionally

3:00 – 3:25 p.m. : Hope at the End of Your Rope