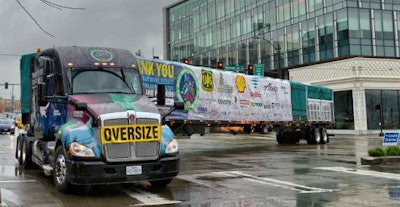 The U.S. Capitol Christmas Tree was delivered to Washington, D.C., by Lynden Transport driver John Schank recently.
The tree was then transported to the U.S. Capitol Building. Upon arrival, it was hoisted by a large crane onto the West Lawn and secured. The tree will be decorated with more than 4,000 ornaments, handcrafted by children and others from Alaska communities, and thousands of LED lights. But the tree will remain dark until Speaker of the House U.S. Rep. Paul Ryan (R-Wisc.) lights it during a ceremony at 5 p.m. on Wednesday, Dec. 2.
Schank still smiles every time he hears the comparison people inevitably make between him and the other white bearded guy who makes deliveries at Christmas time. "I've heard that comparison on more than one occasion," Schank said.
The Lynden Transport driver said he especially likes the way younger kids look at him. With a long white beard and a full head of white hair, Schank looks much like old Saint Nick. "I suppose if I wore a big bright red suit, I would probably get even more kids wanting to tell me what they want for Christmas."
Schank, who is a father, grandfather and great-grandfather, said he has enjoyed the attention received during the 3,000-mile tour across the country. He said he feels "pretty amped" about being chosen to deliver the "People's Tree," a 74-foot Lutz spruce from the Chugach National Forest in his home state of Alaska to the U.S. Capitol. "I was elated and felt privileged to be asked to do this," he said.
Since Schank began driving for Lynden Transport in 1975, he has delivered millions of tons of essential supplies and materials for the Alaska pipeline construction and Prudhoe Bay oilfields over one of the most treacherous roads in America – the Dalton Highway. In fact, Schank holds the record for the most miles driven of any driver who's operated a truck on the road from Fairbanks to Prudhoe Bay, Alaska – 5 million miles – all without a single accident.
Former Alaska Gov. Sean Parnell presented Schank a letter of commendation for 37 years of accident-free driving on that road last year. He was also recognized as 2014 Driver of the Year by the Alaska Trucking Association.