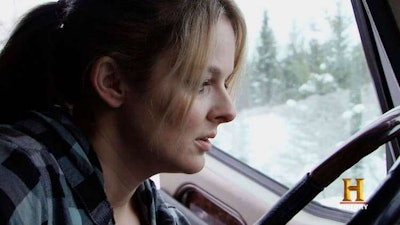 Nothing went as planned in last night's episode of "Ice Road Truckers." But, what would the show be if it did, right?
All three veteran drivers — Lisa Kelly, Darrell Ward and Art Burke — faced the growing list of problems created by the unusually mild winter weather caused by the El Nino in the Pacific Ocean. Kelly also faced engine problems just as Todd Dewey did in last week's episode.
And, the show got its latest new driver, a literal fresh face in 22-year-old Steph Custance who passed the second part of a driving test at Polar Enterprises and got hired.
Darrell Takes A Shortcut
Ward was on his way to the First Nation village of Pikangikum, Ontario when the latest problem caused by the mild winter cropped up. The temperature was too warm — a bit more than 20 degrees Fahrenheit — to allow travel on the ice road, so Ward had no choice to but to stop driving.
As he sat, Ward fretted over how an undelivered load could spell disaster for the new company he started a year ago with Kelly.
Then Ward recalled a previous trip to Pikangikum and a shortcut road he took, a road that is not part of the officially-maintained ice road network, but a road nonetheless.
Ward found the turnoff for that road, and while it was in even sketchier condition than the one he was on, Ward pressed on, having little choice.
"Hope I didn't get myself into a spot I don't want to be in," said Ward.
But, it was close. On this imitation of an ice road, there was no shoulder, no turnaround, no signage and backing all the way out was clearly not an option.
"Oh, oh!" was all Ward could say when the trail ended at a lake, one that was, like others in northern Canada this winter, without a normal thickness of ice.
"Makes you wonder what you're doing out here," said Ward as he pondered venturing onto the thinnish ice with a 20-ton load of construction supplies for a school project.
With no small amount of resignation in his voice, Ward added, "Ain't no turning around now. I guess it's now or never."
Ward inched onto the ice and then crept along the three-mile crossing, listening to it pop and crack under his truck.
Once back on dry land, Ward stated the obvious: "I was lucky today. I made it."
Lisa Has a Breakdown
Ward's partner in ice road trucking, Lisa Kelly, was making a profitable backhaul from Garden Hill to Winnipeg with a frontloader in need of repair on her flatbed. But, her enthusiasm for heading home fully-loaded thawed as quickly as the ice roads when a dashboard light started flashing and the engine of her truck started missing.
"We have a problem, " she said, stating the obvious.
Kelly could wait for help that may or may not arrive, or she could assess the situation herself. That meant breaking one of the cardinal rules of life on the ice roads: Never turn off your truck.
Kelly did.
"I'm crossing my fingers and hoping it's something I can fix," she said. "Trucks don't heal themselves so I've got to try getting it fixed."
Then she lifted the hood to check the engine's fluid levels.
After topping off the oil, she hopped back in the cab and tried to start the truck. The engine wouldn't fire up.
"What the heck?" Kelly asked. "Why is it not starting? You have got to be kidding me. Stupid truck, why won't you start now?
Then she hit on the idea so many drivers use when trying to start a vehicle that otherwise won't start: A bump start.
Luckily, Kelly was at the top of a modest grade. She let off the brakes. Started coasting down the hill, popped it in gear and the truck fired up and Kelly rejoiced.
"Oh my gosh it worked!" she said. "Let's get out of here before something else happens."
Art Curses His Way Across the Ice
Art Burke was on a 400-mile trek from Winnipeg to St. Theresa Point, Manitoba. He bounced along the badly rutted ice road, pointing out where the muskeg was actually showing through the rapidly deteriorating ice and snow.
Partway along, Burke stopped his truck to inspect a road grader about half buried in the mud and snow. As he wandered around inspecting it, Burke, seemingly inspired, said, "We screw up, we might not get to do it again."
That was made clear when Burke arrived at a mile-long ice crossing that led to his destination. Work crews were busy pumping water onto the ice in hopes of it freezing that night to thicken the surface.
Burke waited overnight, doing some math to figure out of his load would be under the 34-ton limit. Before the sun came up, Burke edged onto the ice.
"I screw this up," Burke said. "We're gonna get drowned. I think I can make it before the sun comes up."
And as he crossed the ice slowly, Burke added, "Don't know if this is the right decision but I'm doing it anyway."
As he crossed the ice, a pickup truck came toward Burke, who used every expletive he knew to warn him away, but it didn't work.
Still, he made it over the ice safely.
Steph Becomes the New Kid
Steph Custance, a 22-year-old single mom with modest driving experience, auditioned for Polar's Mark Kohaykewych in last week's episode. Last night, she was back for part two of her driving test.
Custance bobtailed off the Polar lot with Kohaykewych in the passenger seat. He had her try some uphill starts and then took her off-roading down a powerline right-of-way, and eventually back to Polar.
"You're definitely green," he told Custance. "I'm not sure you appreciate how difficult this is, and I'm not sure you're cut out for it."
Then, after a long pause, Kohaykewych added, "Don't let me down."
An excited Custance said the job driving the ice roads was a "huge opportunity. A huge change in my life."
A quick preview of the next episode showed Custance getting tips on making a lake crossing from Todd Dewey.
"Ice Road Truckers" airs on the History Channel Thursday at 10 p.m. Eastern, 9 p.m. Central. Check local listings.