Time is running out to nominate yourself or someone else for the top award for company drivers.
The deadline if 5:30 p.m. Sunday, Nov. 6 for nominations for the 2016 Company Driver of the Year award given by the Truckload Carriers Association and Truckers News. That's also the deadline the search for the top owner/operator being conducted by the TCA and Overdrive.
The contests are sponsored by Love's Travel Stops of Oklahoma City and Cummins Inc. of Columbus, Indiana.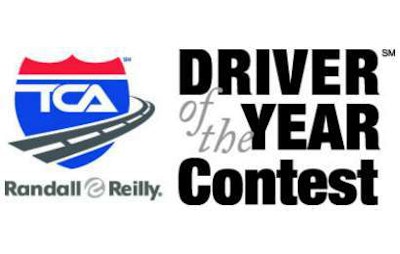 The overall goal of the contest is to recognize and pay tribute to the company drivers who provide reliable and safe truck transportation in moving the nation's goods. Finalists will be chosen from which the grand prizewinner will be selected,and announced at TCA's 77th annual convention in Nashville March 26-29.
The grand prizewinner will be honored as the outstanding company driver for 2016 "… based on his/her ability to operate in a safe manner on the public highways, efforts to enhance the public image of the trucking industry, and positive contributions to the community in which he/she lives," according to the TCA.
Last year's winner was Danny Smith, a veteran driver for Big G Express. He and Mark Trico, the owner/operator of the year, each received $25,000.
The contest is open to any company driver employed by an over-the-road carrier who has safely driven one million consecutive, accident-free miles. A company driver must be nominated by the motor carrier by which he/she is currently employed, and must have been employed by and driving for his/her current trucking company employer for the past three years.
This year's top three finalists will be announced in December.
See the complete contest rules.