If ever there was an informal national observance that deserved to be a full-blown federal bank holiday with parades, celebrations and closings of schools and post offices it's National Coffee Day, which is observed Thursday, Sept. 29.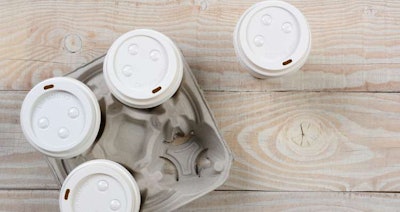 Until then, we'll have to settle for travel stops, donut stores and coffee shops offering freebies and discounts.
Here's some places that want to fill your cup come Thursday.
Drink up!
Love's Travel Stops will celebrate National Coffee Day by donating $1 for every 24-ounce cup of coffee sold to a Children's Miracle Network Hospital.
More than 390 Love's locations will participate in the promotion as part of the company's annual campaign to raise money for Children's Miracle Network Hospitals, which began Aug. 26 this year. Drivers can also choose to help the hospitals by purchasing a balloon for $1, $5 or $20.
Krispy Kreme: Customers at participating Krispy Kreme locations not only get a free 12-ounce coffee, but a free original glazed doughnut as well on National Coffee Day.
Cumberland Farms: Text the phrase FREECOFFEE to 64827 and you'll get a mobile coupon good for a free coffee—any size you want, hot or iced — on National Coffee Day. Coffee is free every Friday in October as well at participating Cumberland Farms locations.
Pilot Flying J Travel Centers: Use this coupon and get a small size cup of coffee, tea, or cappuccino on National Coffee Day.
Stewart's Shops: From noon until closing time, cups of coffee in any size and any flavor are free from this convenient store chain based in upstate New York.
Dunkin' Donuts: For National Coffee Day, DD is offering medium cups of coffee for 66¢ each, to celebrate the company being in business for 66 years.
Birch Coffee: This small coffeehouse chain, with eight locations in New York City, is offering free drip coffee from 7 a.m. to 10 a.m. on National Coffee Day.
LaMar's Donuts and Coffee: Customers who purchase a traveler's coffee mug for $1.19 can get it filled now through September 29 for free.
Peet's Coffee: Purchase any food item on National Coffee Day and you'll get a medium drip coffee at no charge.
Louisiana Roasting Company, Shreveport, LA – Buy one coffee and get one free.
Caribou Coffee – For every cup of Amy's Blend coffee purchased on National Coffee Day, Caribou will donate a coffee to caregivers and family members in cancer centers across America.
Starbucks – Load $10 to your account in the Starbucks App, and receive a $10 e-gift card in return, as long as you pay using Visa Checkout. Offer expires Friday, Sept. 30.
Whole Foods – Stores nationwide are offer 12-ounce cups of coffee for just 25 cents through September.
Eight O'Clock Coffee – Log on to www.EightOClock.com to receive a free sample of Coffee Thins, while supplies last. The thins are edible treats crafted from whole coffee beans.
Peet's Coffee – Get a free cup of coffee with the purchase of a breakfast item.
Wawa – Free coffee all day, any size.