A new survey of moving van operators (PVO) provides insights on their preferred brands, use of technology and eating habits while on the road.
Highlights of this year's King of the Road survey include:
Ninety-three percent of PVOs surveyed use smartphones, up from 66 percent in 2013, with the Android outpacing the iPhone (57 percent to 45 percent) as the smartphone of choice for drivers.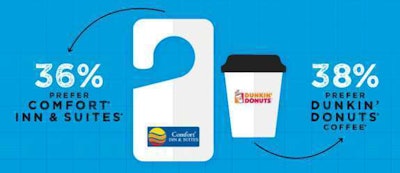 Verizon Wireless remains the preferred wireless network for the third consecutive survey.
PVOs continue to take advantage of the latest technology, with 56 percent of those surveyed using tablets, such as the Apple iPad and Samsung Galaxy.
Some 94 percent of drivers access email daily and 93 percent of respondents saying they have access to internet daily.
Nearly 75 percent of PVOs are checking social media outlets daily, up from 56 percent when the survey was last conducted in 2013.
Seventy-five percent of PVOs surveyed said they exercise while on the road by moving furniture, and 26 percent make an effort to walk, run or doing another workout activity while at truck spots.
Seventy-nine percent of PVOs surveyed said they drink water throughout the day, instead of sugary drinks such teas, sports drinks, juices and sodas. Fresh fruit was the top choice for favorite snacks while on the road (44 percent), followed by peanuts/mixed nuts (35 percent)
Favorite brands and other highway essentials include:
Best coffee: Dunkin' Donuts
Favorite hotel chains: Super 8 and Comfort Inn
Best truck stop chains: Flying J and Petro
Favorite fast food restaurant: Subway
Favorite on-the-road snack: Fresh fruit
State with the best rest stops: Florida
Most effective antacid: Tums
Favorite on-the-road music genre: Talk/news/sports radio
Best tires: Michelin
Favorite motor oil: Shell Rotella
Best tractor: Kenworth
Favorite grocery store/supermarket: Walmart
Most common-used smartphone: Android
Most common-used cell service/network provider: Verizon
Favorite electronic log devices (ELD)/telematics system: Rand McNally
The King of the Road Survey results were released in conjunction with Atlas Van Lines' annual driver appreciation event, known as BRAVO (Boosting Recognition of Atlas Van Operators) Week, Sept. 26-30.
For complete survey results, visit www.atlasvanlines.com/relocation-surveys/king-of-the-road.

Hit the Road Like a Pro, Road Trip Tips Infographic by Atlas Van Lines