UPDATE: As of this (Thursday, Oct. 6) afternoon, Love's Travel Stop 415 in Fort Pierce, Florida, is temporarily closed due to Hurricane Matthew (the one on Okeechobee Road). We will reopen as soon as possible once the storm passes. As of right now, Love's other location on Kings HWY is open. A Love's spokesman said, "We continue to monitor the latest developments with this storm as it approaches Florida's coast. We are positioned and prepared to serve customers who need fuel and food. We're encouraging our customers to stay tuned to Love's on Facebook and Twitter."
__________
With Hurricane Matthew expected to arrive in the early morning hours Friday along the eastern Florida coastline as a category 4 storm, states have issued emergency declarations, suspending some federal regulations for truckers involved in relief efforts, major truck stop chains are preparing for the storm and its aftermath.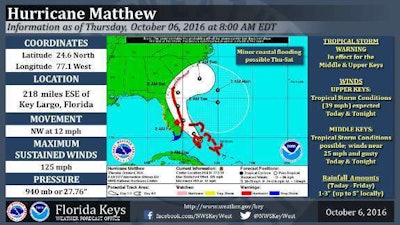 A category 4 storm is defined as containing winds from 130 to 156 mph and causing catastrophic damage.
Forecasters have revised earlier outlooks and now say Matthew will not continue too far north along the East Coast, but instead turn back out to sea and weaken by the end of the weekend.
Keep up to date on the storm's progress at The Weather Channel's Hurricane Central.
Follow the Associated Press' coverage of the storm.
Pilot Flying J issued this statement:
"Pilot Flying J is keeping a very close eye on the storm for team members and our customers. In the event of extreme conditions, we'll certainly provided whatever support we can to the communities we serve."
Love's posted this on their Facebook page this morning:
"Thursday morning update: We continue to monitor the latest developments with Hurricane Matthew as it approaches Florida's coast. We are positioned and prepared to serve Customers who need fuel and food. We appreciate your business very much. Updates will be posted to our Facebook page throughout the duration of the storm."
Florida Gov. Rick Scott issued a State of Emergency that suspends registration, hours-of-service and size and weight regulations for commercial vehicles entering the state to provide emergency services or supplies, to transport emergency equipment, supplies or personnel, or to transport FEMA mobile homes.
The order states the DOT will issue size and weight permits for divisible loads on vehicles transporting emergency equipment, services, supplies and agricultural commodities and citrus as recommended by the Commissioner of Agriculture.
North Carolina Gov. Pat McCrory also issued a State of Emergency suspending hours-of-service regulations, certain size and weight restrictions and certain registration requirements for vehicles transporting equipment and supplies for the restoration of utility services, carrying essentials and for equipment for any debris removal. Vehicle weight must still remain under the maximum GVWR from a vehicle's manufacturer or 90,000 pounds gross weight, whichever is less, according to the emergency declaration. Tandem axle weight must also remain under 42,000 pounds and single axle weight under 22,000 pounds.
South Carolina Gov. Nikki Haley issued a State of Emergency this week that also suspends regulations pertaining to size and weight up to 90,000 pounds. Any weight above that is required to be permitted from the state. South Carolina's emergency declaration also waives hours-of-service regulations. Haley also ordered a major lane reversal for hurricane evacuation out of Charleston. I-26 eastbound into of Charleston was reversed beginning at 3 p.m. Wednesday with traffic going away from the coast until the I-26 and I-77 interchange in Columbia.
The state of Georgia issued a State of Emergency, but didn't specifically mention the suspension of any trucking regulations.
The Florida Trucking Association posted this to its Facebook page husday morning:
"From our CEO, Ken Armstrong:
"I know that today and tomorrow are going to be traumatic for all of you along the East Coast … and for many of you inland. I want to offer FTA's support.
"A few things:
"If ANY of you have advice you can share with us—either for FTA's benefit or for the benefit of fellow members who are in harm's way, we would appreciate it. That would include copies of any hurricane prep plans that you have developed for your company.
"I am sure I speak for all who will have zero or minimal effects from Matthew that we stand by to help our members who are most affected. If you need help, please let me know immediately, and I will reach out to nearby members, who have not been hit so hard, to seek assistance for you and your team.
"If you are in a position to offer assistance right now…a place to park equipment, provide generators or warehouse space, or anything else of importance…please let me know so that we can have that information available if there is a need that we hear of.
"Of course, we join all Floridians in praying for a strong gust of high pressure from the west to kick Matthew eastward. But please do call on us and your fellow FTA members if that doesn't happen and you experience a need or loss."
("Overdrive's" Matt Cole contributed to this report.)