Nobel laureate and American folk icon Bob Dylan is delivering a new three-disc collection of songs that most fans are likely to associate with old black and white movies, smokey piano bars and Frank Sinatra.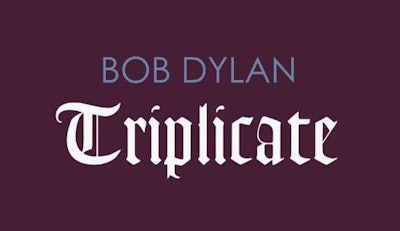 Triplicate, which arrives March 31, includes Dylan's version of many of the great songs from the American Songbook: As Time Goes By, Stormy Weather, Sentimental Journey and Stardust. In all, Dylan delivers 30 songs on Triplicate. This effort comes on the heels of Dylan's 2015 album Shadows In The Night and 2016's Fallen Angels, which contained songs recorded by Sinatra.
So if you're a Sinatra fan or just love the old standards, Triplicate might have something for you to appreciate.
Included on Triplicate:
Disc 1 – ' Til The Sun Goes Down
Side 1:
1. I Guess I'll Have to Change My Plans
2. September Of My Years
3. I Could Have Told You
4. Once Upon A Time
5. Stormy Weather
Side 2:
1. This Nearly Was Mine
2. That Old Feeling
3. It Gets Lonely Early
4. My One and Only Love
5. Trade Winds
Disc 2 – Devil Dolls
Side 1:
1. Braggin'
2. As Time Goes By
3. Imagination
4. How Deep Is The Ocean
5. P. S. I Love You
Side 2:
1. The Best Is Yet To Come
2. But Beautiful
3. Here's That Rainy Day
4. Where Is The One
5. There's A Flaw In My Flue
Disc 3 – Comin' Home Late
Side 1:
1. Day In, Day Out
2. I Couldn't Sleep A Wink Last Night
3. Sentimental Journey
4. Somewhere Along The Way
5. When The World Was Young
Side 2:
1. These Foolish Things
2. You Go To My Head
3. Stardust
4. It's Funny To Everyone But Me
5. Why Was I Born