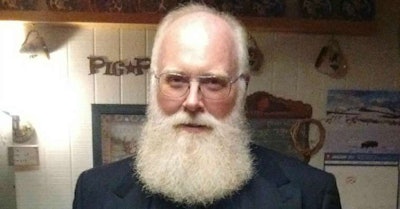 John Middleswarth was in the trucking industry for 37 years before disability forced him to turn over the keys to his company truck.
Middleswarth, of Zebulon, North Carolina, still had a trucker's work ethic, though, and he wasn't satisfied with just accepting his disability check. He said he felt he needed to do something to earn it. So seven days a week, he goes out with two industrial pinchers and trash buckets and cleans up the streets of his small town.
"All those years of trucking, I never gave it less than 100 percent and I earned every cent I made," Middleswarth said. "For me to be on disability and get a disability check and not do anything, I couldn't handle it anymore."
He was recently recognized for his impact on the community by being awarded Citizen of the Year from the Zebulon Chamber of Commerce.
Middleswarth and his wife of 37 years Connie, have two energetic dogs: A wire-haired Dachshund and a Jack Russell terrier. Middleswarth starts his days by taking the dogs for a 2.5 mile walk around town. When he returns home and drops them off, he dons a pair of overalls, a straw hat, and a safety vest and grabs his clean-up tools and heads back out. He usually stays out picking up trash from about 8 a.m. to 1 p.m., depending on how he's feeling.
"I said if I'm out here and I see all this trash blowing around, I might as well do something productive," Middleswarth said.
One bucket is for trash, the other is for recyclables. Middleswarth recycles everything he can. He goes through different areas, including some of the main arteries leading in and out of town. He said he wants people visiting his town to have a trash-free first impression.
"Instead of adopting a highway, I've adopted a town," he said.
Middleswarth joined the trucking industry in 1977 as a dock worker for Southeastern Freight Lines. He did dock work for a few months, and when he had down time he would practice driving a truck around the yard and backing and dropping.
"I did that on my own time. I stayed after work and they let me play out there in the yard," Middleswarth said.
Once he had a good handle on how to drive a rig, he started doing local pick ups and deliveries near the Charleston area before moving on to delivering through South Carolina, North Carolina and Georgia. After a few years he decided to switch back to local driving and became a dock supervisor and then moved up to being an operations manager. After that, he returned to driving throughout the southeast.
"All in all, I spent from 1977 until 2013 as a truck driver or in the trucking industry," Middleswarth said. "Even in my years of being an operations manager when times got tight and there wasn't enough manpower I still hit the streets to help with pick ups and such."
If his health were better, Middleswarth might still be out on the road. In 2000, he was diagnosed with atrial fibrillation. He could control it with medicine and he was cleared to continue driving. He was later also diagnosed with hypoglycemia. Then, one night, he was taking a shower and he realized he couldn't feel his foot. He stuck it under the scalding hot water, and his leg turned cherry red but Middleswarth couldn't feel a thing.
He was diagnosed with peripheral neuropathy, meaning that he'd sustained nerve damage. Middleswarth said his doctor told him there was nothing that could be done about it.
"Once you damage your nerves from bouncing up and down in those trucks after all those years, there is no repairing of them," Middleswarth said.
He realized it was no longer safe, for himself or those he shared the highway with, for him to continue truck driving. He'd only every worked for Southeastern Freight Lines, and he didn't want to put the company in jeopardy or hurt the reputation of his fellow associates.
"How do you place in jeopardy a company that you love, people that you feel are like family? How do you put their security in jeopardy?" he said.
Middleswarth has always had a passion for helping pick up his town. He first got involved with it in 1985 when he took a town park under his care and mowed it, picked up the trash and convinced the town's parks and recreation office to make it an official town park. From there, he got involved with clean sweeps and Keep America Beautiful. Middleswarth said being recognized for his efforts to keep Zebulon clean has been very humbling.
"It blows my mind because I figured everyone thought I was just some old fool out there picking up cans," he said.

Middleswarth was also named Citizen of the Year by his local police department in January.
"Out of all the people in the town, that they chose me. It boggles my mind," Middleswarth said.