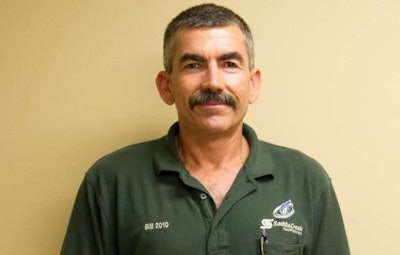 Editor's Note: Next week, the Truckload Carriers Association and Truckers News will name a new Company Driver of the Year. Over the next few days, we'll profile the three finalists. Today's finalist is William Poteet, who drives for Saddle Creek Transportation, which has its corporate offices in Lakeland, Florida.
—
Three veteran truck drivers — all with numerous years of service and exemplary safety records — will be on the stage during the awards banquet Tuesday, March 28 at the Truckload Carriers Association annual convention in Nashville.
One of them will walk off with $25,000 cash and the title of 2016 Company Driver of the year presented by TCA and Truckers News. The two runners up will receive $2,500 each.
The contest is sponsored by Cummins and Love's Travel Stops.
The Company Driver of the Year finalists are:
Murray Manuliak of Bison Transport

David McGowan of WEL Companies, Inc.

William Poteet of Saddle Creek Transportation
TCA and Overdrive will also present the award for Owner-Operator of the Year. Those finalists are:
Gary Buchs of Landstar System, Inc.

Philip Keith of WEL Companies, Inc.

Kevin Kocmich of Diamond Transportation
Meet William Poteet
Had William Poteet followed his career inclination as a young man, he most likely would not be in line to win $25,000 and be named Company Driver of the Year.
"Having grown up around trucks — my father drove them for 40 years — I had a natural appreciation for the people who drive them and the job they perform," said Poteet, who lives in Lakeland, Florida and drives for Saddle Creek Transportation.
Still, as a young man, Poteet figured his work with trucks would be in fixing, not driving them. He said he started out as a mechanic, "but quickly realized my calling would be (as) one driving rather than repairing them."
And, that has worked out.
"The trucking industry has always given me more than I put in," said Poteet. "I think if you give respect to the people around you and give them the benefit of the doubt, then everyone's day can be a little brighter."
But, he quickly gives credit for his success as a driver to his wife Shannon "whose incredible sensibility and strength allow me to perform my driving duties with a clear head and rested body."
The efforts of both Shannon and William have paid off as he has earned recognition in and outside Saddle Creek, where he has worked for the past five years.
Saddle Creek President Michael J. DelBovo said of Poteet, "His dedication and steadfast commitment to safety is unwavering – regardless of the situation or environment. He grew up in a trucking family and has certainly learned how to be a professional at his craft.
"Bill is one of our fleet leaders in safety. He has it deeply ingrained in him, which allows him to be such a great mentor within our driving fleet. His attention to safety detail is unwavering and that example rubs off on other drivers, especially new members to our fleet."
DelBovo also said Poteet is as humble as he is dedicated to his job. He said that when Poteet was named the Florida Trucking Association's Driver of the Month last July the company wanted to interview him for its employee newsletter.
Poteet was, according to DelBovo, "… humble as usual," said it was all in a day's work and went about his job.
Saddle Creek Safety Director David J. Roehrick offered more insight into Poteet when he said, "Bill is one of those easy to manage and work with guys. I know that because I hear this from others that work with him, and anytime I ask him to help me out with something from a safety standpoint he is there when I need him.
"I was very proud to see him win the Florida Trucking Association Driver of the month award as I had to drag him kicking and screaming to the awards ceremony to receive an award that he really deserves. He is one of the good guys in this industry. (He) Truly believes in safety and old fashioned work ethic. "