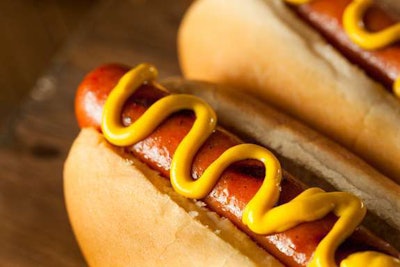 That staple of summer — the hot dog — is celebrated Wednesday, July 19 and two national truck stop chains are joining in.
On National Hot Dog Day, Pilot Flying J and Love's will offer free hot dogs to visitors
Love's customers can access the a bar code good for a free hot dog or roller grill item on the company's Facebook, Twitter or Instagram pages from 12:01 a.m. to 11:59 p.m. Wednesday, July 19. Customers can redeem one coupon per transaction at participating locations in 41 states.
At Pilot Flying J, you can get a free hot dog or other roller grill item just by presenting a special bar code found here. The Pilot Flying J promotion runs through Wednesday, July 26.
So you can sound like an expert on National Hot Dog Day, here are some factoids from the National Hot dog & Sausage Council that will astound — or annoy — your friends and coworkers:
Los Angeles residents consume more hot dogs than any other city (more than 36 million pounds).
Chicago's O'Hare International Airport consumes six times more hot dogs — 725,000 more than Los Angeles International Airport and LaGuardia Airport combined.
On the Fourth of July, Americans will eat 150 million hot dogs.
During peak hot dog season, Memorial Day to Labor Day, Americans consume 7 billion hot dogs. That's 818 hot dogs consumed every second during that period.
Fans at Major League Baseball parks enjoyed 19.4 million hot dogs during the 2016 season.