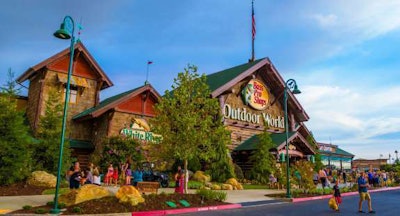 One of the country's leading operators of travel centers has teamed up with a major outdoors products retailer to offer customers an expanded selection of products.
Pilot Flying J has partnered with Bass Pro Shops to create a "store within a store" that includes a selection of items from the Springfield, Missouri-based sporting goods company. The initial project display is located in the Pilot Flying J on Murfreesboro Road off Interstate 40 in Lebanon, Tennessee east of Nashville.
The Bass Pro Shop presence opened earlier this month and, according to Pilot Flying J officials, allows the company the opportunity to explore ways to increase retail offerings to customers. If successful, PFJ's goal is to recreate the Bass Pro Shop display in more of its travel centers.
The store within a store carries Bass Pro Shop and ReadHead branded clothing.
Bass Pro Shop operates more than 100 retail and marine centers across the U.S. It was founded in 1972 when Johnny Morris began started selling fishing tackle in his father's liquor store. It also operates the 4,600-acre Big Cedar Lodge resort in Missouri's Ozark Mountains.
Earlier this month the federal government approved Bass Pro Shop's $4.2 billion merger with Sidney, Nebraska-based Cabela's, another major outdoors chain with 85 stores in the U.S. and Canada.
This week Forbes added Bass Pro Shops to its list of America's Most Reputable Companies.