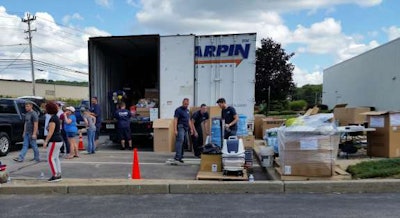 Six full-sized Arpin Van Lines moving trucks rolled off Cardi's Furniture parking lots on Sept. 9, filled with cleaning and building supplies bound for Houston, Texas.
"Hurricane Harvey may have disappeared from the headlines, but it will be many months before Houston and the surrounding communities recover and rebuild from the devastating floods," said David Arpin, president and CEO of Arpin Van Lines, which is located in Rhode Island. "We are touched by the overwhelming outpouring of support from our Southern New England neighbors, friends, businesses, nonprofits, cities and towns, who have generously donated cleaning and building supplies to aid in the hurricane recovery efforts. Transporting these supplies is just one small way we can help."
The supplies are expected to help clean and rebuild up to 1,000 homes.