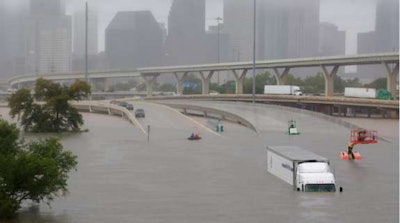 Truckers are goodhearted folks and respond willingly in times of crisis. So if you are planning on providing relief efforts or supplies to those impacted by Hurricane Harvey, you may wish to check out some of the following information.
The American Logistics Aid Network (ALAN) has posted transportation and warehouse needs to their needs map. Review the map to see if there are needs that you can assist with. They are seeking pro bono, donated and/or volunteer offers only.
FreightWaves has provided insights on what fleets and drivers should expect when running FEMA loads.
Waivers and Declarations:
And, for before you hit the road:
Louisiana road conditions
The Department of Homeland Security has issued guidelines on how best to help victims of the flooding in Texas and Louisiana. DHS suggests:
"The most effective way to support disaster survivors in their recovery is to donate money and time to trusted, reputable, voluntary or charitable organizations.
"Cash donations offer voluntary agencies and faith-based organizations the most flexibility to address urgently developing needs. With cash in hand, these organizations can obtain needed resources nearer to the disaster location. This inflow of cash also pumps money back into the local economy and helps local businesses recover faster.
"Please do not donate unsolicited goods such as used clothing, miscellaneous household items, medicine, or perishable foodstuffs at this time. When used personal items are donated, the helping agencies must redirect their staff away from providing direct services to survivors in order to sort, package, transport, warehouse, and distribute items that may not meet the needs of disaster survivors."
U.S. Army Corps of Engineers to release water from two Houston-area dams: statement https://t.co/HnRKumV7Gw pic.twitter.com/psq1D8N9GF

— Reuters Top News (@Reuters) August 28, 2017