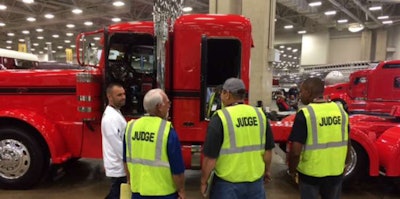 The upcoming year is going to be another busy one for the trucking industry.
The Great American Trucking Show returns to Dallas, Aug. 23-25, at the Kay Bailey Hutchison Convention Center. During the 2017 show, nearly 55,000 visitors visited almost 500 exhibitors and 100 trucks across 500,000 square feet of space. The 2018 show will bring back more of the same: exhibitors, new product reveals, custom show trucks, health pavilions and more.
Other trucking shows will take place throughout the year across the nation, including numerousAmerican Truck Historical Society (ATHS) shows. Individual ATHS chapters put on their own yearly shows where they display their members' vintage trucks.
Truckers News has compiled industry events for 2018 in one calendar, listed below.
Do you know of an event that isn't listed or that has changed dates or location? Tell us about it in the comments or email Truckers News' associate editor Deanne Winslett at [email protected].
January
Jan. 6:

American Truck Historical Society (ATHS) Central CA Chapter Meeting at George W. Lowry Inc. in Salida, California

Jan. 7-11:

Transportation Research Board Annual Meeting in Washington, D.C.

Jan. 13-17:

National Private Truck Council (NPTC) Private Fleet Management Institute in Jacksonville, Florida

Jan. 19-22:

California Trucking Association's Annual Membership Conference at Monterey Plaza Hotel & Spa in Monterey, California

Jan. 22-25:

National Biodiesel Conference & Expo at Fort Worth Convention Center in Fort Worth, Texas

Jan. 22-25:

Heavy Duty Aftermarket Week at The Mirage in Las Vegas, Nevada

Jan. 29 – Feb. 2:

Commercial Vehicle Safety Alliance's (CVSA) Cooperative Hazardous Materials Enforcement Development at Hyatt Regency Orange County in Garden Grove, California
February
Feb. 2-3:

Mid-West Truck & Trailer Show at Peoria Civic Center in Peoria, Illinois

Feb. 11-14:

National Motor Freight Traffic Association, Inc. (NMFTA) Member Meeting at Hyatt Regency Newport Beach in Newport Beach, California

Feb 29:

ATA Technology and Maintenance Council Annual Meeting
March
March 6-9:

The Work Truck Show at Indiana Convention Center in Indianapolis, Indiana

March 16-18:

ATHS Northeast Ohio Chapter at 2018 Summit Racing I-X Piston Powered Auto-Rama at I-X Center in Cleveland, Ohio

March 17: Safety Drive for a Cure at Holland, Inc. in Ellenwood, Georgia
March 22-24:

Mid-America Trucking Show at Kentucky Exposition Center in Louisville, Kentucky

March 25-28:

Truckload Carriers Association Convention at Gaylord Palms in Kissimmee, Florida
April
April 27-29:

75 Chrome Shop Truck Show in Wildwood, Florida

April 29 – May 1:

NPTC 2018 Show in Cincinnati, Ohio
May
May 4-5:

Midwest Pride In Your Ride Truck and Tractor Show at Tri-State Raceway in Earlville, Iowa

May 4-6:

ATHS Southern California Chapter Truck Show and Swap Meet at Orange Empire Railway Museum in Perris, California

May 10-12:

Kenly 95 East Coast Truckers Jamboree in Kenly, North Carolina

May 13:

Mother's Day Convoy for the Make A Wish Foundation in Lancaster, Pennsylvania

May 31 – June 2:

ATHS National Convention and Truck Show at Kentucky Horse Park in Lexington, Kentucky

May 31 – June 3:

Wheel Jam Truck Show at South Dakota State Fairgrounds in Huron, South Dakota
June
June 9:

ATHS Southeast Iowa Chapter Truck Show at Greater Ottumwa Park and Campground in Ottumwa, Iowa

June 10-12:

NMFTA Member Meeting at Embassy Suites Old Town Alexandria in Alexandria, Virginia

June 22-24: Great Lakes Truck Show at Cabela's in Dundee, Michigan

Around 100 trucks were on display at the 2017 GATS show in Dallas.
July
July 8:

ATHS Central NY Chapter Truck Show at Longbranch Park in Liverpool, New York

July 12-14:

Gulf Coast Big Rig Truck Show at Mississippi Gulf Coast Coliseum & Convention Center in Biloxi, Mississippi

July 21:

ATHS Central Coast Chapter Cooler Truck Show at Nipomo High School in Nipomo, California
August
Aug. 24-26: Great American Trucking Show in Dallas, Texas
September
Sept. 8:

ATHS Rocky Mountain Chapter Truck Show at Art Robinson Transport Museum in Salina, Utah

Sept. 9:

National Truck Driver Appreciation Week, nationwide

Sept. 13-15: Richard Crane Memorial Truck Show in St. Ignace, Michigan
Sept. 14-16:

ATHS LaGrange Engine Show and Northeast Ohio Chapter Show at Lorain County Fairgrounds in Wellington, Ohio

Sept. 14-16:

ATHS San Juan Chapter Classic truck and Vehicle Show at Riverside Park in Aztec, New Mexico
October
Oct. 14-17:

NMFTA Member Meeting at Hyatt Regency Savannah in Savannah, Georgia
November
Currently no events are listed for November
December
Dec. 15: National Wreaths Across America Day