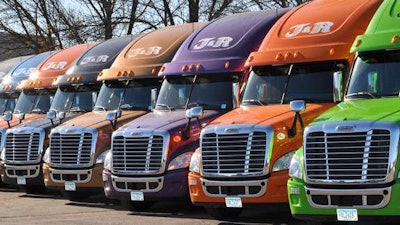 Minnesota-based J & R Schugel recently announced a $15,000 sign-on incentive for experienced OTR drivers who join the carrier before the end of the year.
The sign-on incentive is for company drivers with a minimum of six months' experience. Drivers will have the opportunity to earn an additional $500 per month for 2 ½ years after their first full month of employment, according to a statement from the company.
If eligible, drivers can receive $250 for 7,500 to 9,999 dispatched miles driven in a month or $500 for 10,000+ dispatched miles driven.
"The incentive directly relates to driver productivity and retention, while giving them an additional earning potential on top of their base pay rate," said Courtney Wittman, director of Human Resources for the company. "Once the sign-on concludes, a company driver will then be eligible for the Employee Stock Ownership Plan and start earning shares towards retirement."
Based in New Ulm, Minn., and with terminals in Columbus, Ohio, and Tomah, Wisconsin, J & R Schugel is a truckload carrier serving the 48 continental U.S., with regional and over-the-road operations in the Midwest, Northeast, Southeast and West Coast. It owns 600 power units and over 1,000 trailers.