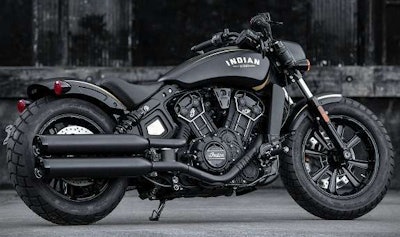 Indian Motorcycles has partnered with another unique American brand — Jack Daniel's — to create a limited number of models inspired by the distiller.
Indian just released their limited edition Scout Bobber honoring the volunteer fire department that protects the distillery.
This Scout Bobber has the standard 69 cubic inch V-Twin engine that creates 100 hp. It features matte black paint accented by gloss black on the valve covers, levers, fender struts, and exhaust tips. It has 24 karat gold striping on the tank and fenders, and matching the gold logo embroidery on the saddle.
Only 177 are available for $17,000.