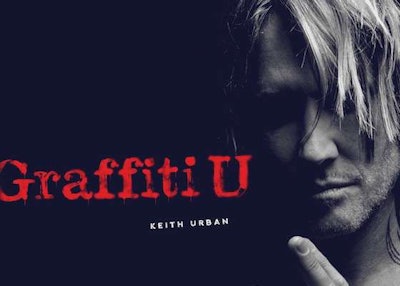 One of country music's best-known voices is staged to return to the charts with a new album next week. Keith Urban will release his ninth studio album, Graffiti U, April 27.
Urban told Rolling Stone Country the "U" in the album title represents both his last name as well as you, the listener.
"The sound of words is a big thing to me – Ripcord was like that, Fuse was like that. Fuse and Ripcord denoted a certain kind of energy in the world to me," Urban said in the interview, referencing his previous albums. "'Graffiti' to me felt very uninhibited, artistic, liberated expression. 'Graffiti' to me is a blank canvas and pure artistic expression upon that."
Graffiti U is available for preorder on Amazon and iTunes.
The album's track list:
1. Coming Home
2. Never Comin' Down
3. Same Heart
4. My Wave
5. Parallel Line
6. Drop Top
7. Way Too Long
8. Horses
9. Gemini
10. Texas Time
11. Love The Way It Hurts (So Good)
12. Female
13. Steal My Thunder