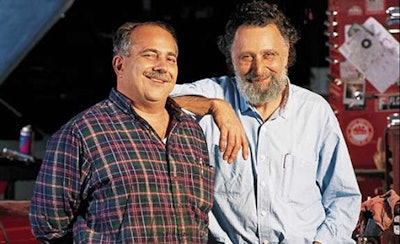 NPR's Tom and Ray Magliozzi — also known as Click and Clack the Tappet Brothers — are part of the Automotive Hall of Fame' class of inductees for 2018.
The two wise-cracking mechanics from Cambridge, Massachusetts were the co-hosts of NPR's national weekly radio show, Car Talk, which was produced from 1977 to 2012. At its height of popularity, the show had 3.3 million listeners, and appeared on more than 600 stations.
The announcement from the Automotive Hall of Fame said of the two brothers:
In 1973, the MIT-educated Magliozzis opened a do-it-yourself repair shop, Hacker's Haven. The shop rented space and equipment to hackers trying to fix their own cars. The Magliozzis were invited in 1977 to be part of a panel of automotive experts on a call-in show on Boston's NPR affiliate WBUR-FM. In the fall of 1987, nine months after being asked to participate in NPR's Weekend Edition, Car Talk premiered as an independent NPR program, and shot to the top of the ratings. In 1992, Tom and Ray won a Peabody Award for Car Talk for "distinguished achievement and meritorious public service."
Tom Magliozzi died on Nov. 3, 2014, at age 77, due to complications from Alzheimer's disease.
Other 2018 inductees are: Michael (Mike) Jackson, chairman, CEO and president of AutoNation; Frank Stronach, founder of Magna International; and Kiichiro Toyoda, the Japanese entrepreneur whose decision to expand his father's company, Toyoda Automatic Loom Works, into automobile manufacturing and created what would become Toyota Motor Corporation.
The induction ceremonies are July 19 at the MGM Grand in Detroit.