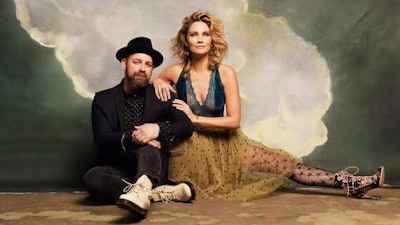 Country group Sugarland, made up of Jennifer Nettles and Kristian Bush, has released its first album in almost eight years. Titled "Bigger," the 11-track album came out June 8. It's the duo's sixth studio album and they co-wrote almost all of the album's songs.
Nettles says the duo is excited to return to the country music scene.
"We have always enjoyed playing in the margins and stretching the format," Jennifer said in a release. "But it's fun to have taken this time away and seen how the format has expanded and how music has evolved. Before, we were playing in the margins. Now, the margins have moved, and that's fun to hear."
The album is available on Amazon and iTunes.
The album's track list:
1. Bigger
2. On A Roll
3. Let Me Remind You
4. Mother
5. Still The Same
6. Lean It On Back
7. Babe
8. Bird In A Cage
9. Love Me Like I'm Leaving
10. Tuesday's Broken
11. Not The Only