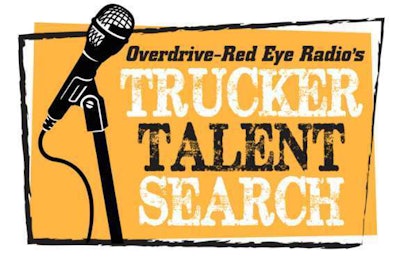 Three drivers will compete live at the Great American Trucking Show in August in the fifth annual Overdrive-Red Eye Radio Trucker Talent Search.
James Nelson, Mandi Jo Pinheiro, and B.J. Williams were selected by a panel of judges, who reviewed the more than 35 contest entries. Overdrive featured the top 10 contenders before the judges selected the three finalists.
Nelson, of Livingston, Tennessee is a company driver for Accelerated Inc. and has been trucking for 15 years.
Williams lives in Lavergne, Tennessee and is a company driver for Ryder Integrated Logistics. He has been driving for 20 years.
An owner-operator leased to Charleston Transport LLC, Pinheiro lives in Twin Falls, Idaho. She has been driving for three years.
The competition culminates with a live contest at GATS. The first-place winner receives a $1,000 cash prize, plus a recording session courtesy of AxleOutPro. The contest will be emceed by trucker and recording artist Tony Justice, who will also perform during the event.