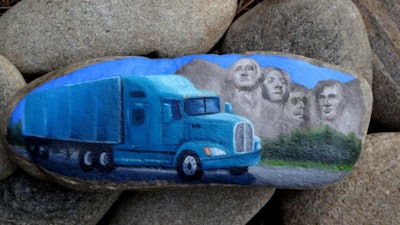 Michelin North America, the tire maker, has started a unique contest that requires participants to keep an eye out for something out of the ordinary. Travelers participate in the contests by painting a rock and sharing its photo on designated social media channels.
Michelin has distributed 100 yellow-painted rocks in California, Florida, Georgia, New York, North Carolina, South Carolina, Tennessee, Texas and Montana. Painted by artist Darcie Arnold of Simpsonville, South Carolina, are hidden in public places, such as campgrounds, local parks, downtown areas, and bus stops. Travelers who find a yellow Michelin-branded rock may share a photo on social media that is tagged #MichelinRocks.
Using the properly acquired rocks, participants in youth or adult categories may create their own painted rocks for a prize: one side should feature their favorite vehicle for travel (such as a car, RV, bicycle, plane, SUV, motorcycle, bus, truck, camper, UTV), and the other side should include the #MichelinRocks hashtag. Participants then share a photo on Facebook, Twitter or Instagram that's tagged #MichelinRocks. A $500 donation will be made to the school's art program of the youth winner and a $250 gift card will be awarded to the adult winner.