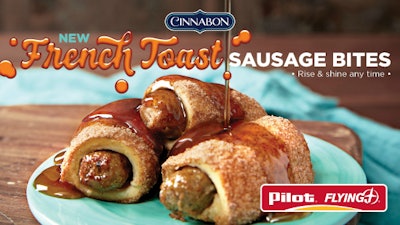 Need something different for breakfast on the road?
Pilot Flying J may have exactly what you have in mind. It's a little sweet, a little savory and its new at the travel stops across the country.
For a limited time, PFJ is serving Cinnabon French Toast Sausage Bites, which are just as they sound. Breakfast sausages are wrapped in fluffy dough and rolled in Cinnabon French toast seasoning.
They're $3.09 for three pieces and $4.29 for five and on the PFJ menu now through Jan. 13, 2019.
The new breakfast item arrives at Pilot Flying J just as McDonald's introduces a trio of new mammoth breakfast sandwiches.