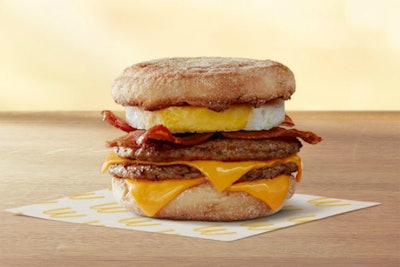 McDonald's has introduced three new breakfast sandwiches, but you may not want to try eating them while you drive.
Triple Breakfast Stacks are modified and enlarged versions of McDonald's existing breakfast sandwiches and include:
two slices of American cheese
two sausage patties
bacon
an egg.
Stacks are available on a McMuffin, biscuit, or McGriddles cakes.
The company says the new sandwiches are in part a response to the fast food breakfast market becoming more competitive.
Here's the nutrition information on each of the new Stacks.
%{[ data-embed-type="image" data-embed-id="60257e28da016482238ebc2f" data-embed-element="span" data-embed-alt="Triple Stack McMuffin 780 calories (510 from fat) 57 grams of fat 32 grams of carbohydrates 35 grams of protein" data-embed-src="https://img.truckersnews.com/files/base/randallreilly/all/image/2018/11/tn.bts_panel1_mcmuffin.png?auto=format%2Ccompress&fit=max&w=1280&q=70" data-embed-caption="Triple Stack McMuffin<br>780 calories (510 from fat) 57 grams of fat 32 grams of carbohydrates 35 grams of protein" data-embed-width="634" data-embed-height="423" ]}%
%{[ data-embed-type="image" data-embed-id="60257e28da016482238ebc30" data-embed-element="span" data-embed-alt="Triple Stack McGriddle 850 calories (530 calories from fat) 59 grams of fat 48 grams of carbohydrates 34 grams of protein" data-embed-src="https://img.truckersnews.com/files/base/randallreilly/all/image/2018/11/tn.bts_panel2_mcgriddles.png?auto=format%2Ccompress&fit=max&w=1280&q=70" data-embed-caption="Triple Stack McGriddle<br>850 calories (530 calories from fat) 59 grams of fat 48 grams of carbohydrates 34 grams of protein" data-embed-width="634" data-embed-height="423" ]}%
%{[ data-embed-type="image" data-embed-id="60257e28da016482238ebc31" data-embed-element="span" data-embed-alt="Triple Stack Biscuit 890 calories (580 calories from fat) 65 grams of fat 43 grams of carbohydrate 34 grams of protein" data-embed-src="https://img.truckersnews.com/files/base/randallreilly/all/image/2018/11/tn.bts_panel3_biscuit.png?auto=format%2Ccompress&fit=max&w=1280&q=70" data-embed-caption="Triple Stack Biscuit<br>890 calories (580 calories from fat) 65 grams of fat 43 grams of carbohydrate 34 grams of protein" data-embed-width="634" data-embed-height="423" ]}%