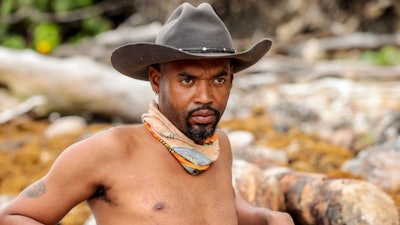 Even the best of runs has to come to an end.
Carl Boudreaux, the 41-year-old owner-operator from Beaumont, Texas found that out Wednesday night when he was voted off the island in a special double episode of CBS's reality show Survivor.
In the evening's first episode, a confident Boudreaux decided to sit out an immunity challenge and enjoy what host Jeff Probst said may have been the world's largest plate of nachos. There was also a pitcher of beer and another of margaritas to share with several others.
Through CBS, we asked Boudreaux if he had any regrets about that decision and if those nachos were better than the ones he's used to back in Texas.
"Not one regret at all," said Boudreaux. "I needed the nourishment at that point. No, they weren't better than the ones I get in Texas, but they were very, very good. When you are that hungry anything that is food tastes good. I do have some places in Texas where I can get some bomb nachos!"
Also in that first episode, Boudreaux engineered the departure of his main rival, bartender Alec Merlino at the following tribal council. But, in doing so, he seems to have angered some of the remaining nine survivors.
In Wednesday's second episode, Boudreaux won a reward in the opening challenge, his first of the season. But while he was off enjoying that, others conspired against him. At the second tribal council, the vote was four for Angelina Keeley and five against Boudreaux, and his torch was extinguished.
Still, Boudreaux is philosophical about his exit.
"While winning is the ultimate goal, just the experience in itself was one of the best things I've ever done in my life," he told Truckers News through CBS. "That experience is nothing that money can buy.
"I'm devastated that I didn't win but at the end of the day I'm OK 'cause I have my health and my family and in life that is all you really need."
The competition for $1 million is now down to eight participants.
Survivor airs Wednesdays at 8 p.m. on CBS. Check local listings.