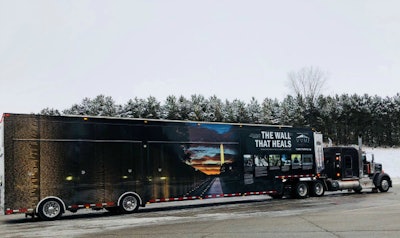 The Truckload Carriers Association will once again partner with the Vietnam Veterans Memorial Fund for the fourth year.
In 2015, TCA carrier members began hauling "The Wall That Heals," an exhibit which includes a three-quarter scale replica of the Vietnam Veterans Memorial, to communities nationwide. The exhibit bears the names of the more than 58,000 men and women who died in Vietnam.
For 2019, VVMF has selected Hoekstra Transportation, LLC and the community of Bourbonnais, Illinois, as a sponsored stop. The mobile education unit and The Wall That Heals will be available to view 24 hours a day, June 27-30 at Perry Farm.
The wall's 2019 tour schedule includes stops in:
San Antonio, Texas — Feb. 28 to March 3
Casa Grande, Arizona — March 7 to March 10
Peoria, Arizona — March 14 to March 17
Bellflower, California — March 21 to March 24
Windsor, California — March 28 to March 31
Florence, Oregon — April 4 to April 7
Costa Mesa, California — April 11 to April 14
Stillwater, Oklahoma — April 18 to April 21
Lewisville, Texas — May 2 to May 5
Durant, Oklahoma — May 9 to May 12
Oakley, Kansas — May 16 to May 19
Bentonville, Arkansas — May 23 to May 27
Paragould, Arkansas — May 30 to June 2
Lathrop, Missouri — June 6 to June 9
Arvada, Colorado — June 20 to June 23
Bourbonnais, Illinois — June 27 to June 30
West Dundee, Illinois — July 4 to July 7
Greenfield, Indiana — July 11 to July 14
Marion, Ohio — July 18 to July 21
Conway, New Hampshire — Aug. 8 to Aug. 11
North Reading, Massachusetts — Aug. 15 to Aug. 18
Bellingham, Massachusetts — Aug. 22 toAug. 25
East Meadow, New York —Aug. 29 to Sept. 1
Plymouth, Pennsylvania —Sept. 5 to Sept. 8
Manitowoc, Wisconsin —Sept. 12 to Sept. 15
Ocean View, Delaware — Oct. 3 to Oct. 6
Indiana, Pennsylvania —Oct. 10 to Oct. 13
Tarboro, North Carolina — Oct. 17 to Oct. 20
Rock Hill, South Carolina — Oct. 24 to Oct. 27
Pooler, Georgia — Oct. 31 to Nov. 3
Stephenville, Texas — Nov. 7 to Nov. 10
Columbia, Mississippi — Nov. 14 to Nov. 18