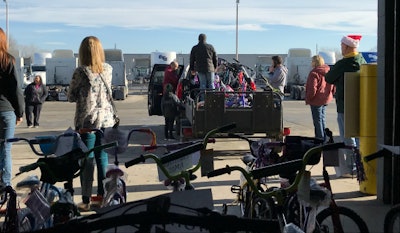 A Midwest trucking company brightened the holidays of numerous local youths during its fourth annual Holiday Bike Drive recently.
Contract Transport Services, which is headquartered in Green Bay, Wisconsin, gave away nearly 100 bicycles Sunday, Dec. 16. The bikes were given to children involved with two Green Bay-area organizations: The Brown County PALS program and Foundations Health & Wholeness.
Each year CTS hosts its bike drive to provide for area youth in need. This year it collected nearly 100 brand new bikes donated by CTS employees and business partners, including truck manufacturer Kenworth.
"It truly is a joy for CTS to put on this bike drive each year," said company President Curt Reitz. "It's amazing to watch our employees and business partners come together with other community volunteers to help spread holiday cheer to these kids. At CTS, we drive to instill in all of our employees the values of family and community, and I'm proud of how they react to that."
CTS held the bike drive at its shop in Green Bay. Reitz, who also coaches the eighth grade girls' basketball, had his team present to assist with the event and support other community youth.
Foundations Health and Wholeness has a foster program that serves Northeast Wisconsin children placed in care who are in need of intensive care and nurturing away from their home. The program also offers comprehensive instruction in independent living skills to ensure children are prepared when they turn 18 and leave foster care.
The Brown County PALS Program is a service of Brown County Human Services Department. The PALS Program matches children who are referred by Child Protective Services with an adult volunteer, couple, or family. Children age 3 and older participate in the PALS Program.
CTS recently was honored as a Green Bay-area 2018 Ethics in Business Award nominee, based on its work in the community, including its annual Holiday Bike Drive.
Established in 1985, CTS provides dedicated and Midwest regional transportation services to numerous Fortune 500 companies.