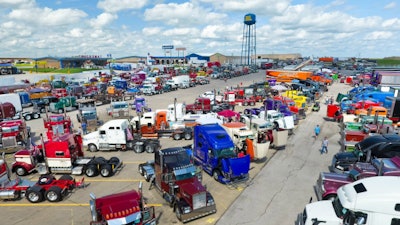 As 2019 gets under way, rest assured you will have plenty of trucking-related events to keep you occupied when not driving. If you are a fan of truck shows, it looks like 2019 will be a banner year.
The Great American Trucking Show returns to Dallas, Aug. 22-24, at the Kay Bailey Hutchison Convention Center.
The 2018 edition of the truck show featured 520 exhibitors and 107 trucks across over 500,000 square feet of exhibit space. GATS attendance has grown 25 percent since 2013, and the 2019 edition of the show plans to continue growing on that success.
Also on the trucking industry's 2019 calendar are numerous American Truck Historical Society (ATHS) truck shows, which bring out antique trucks and antique truck enthusiasts. The ATHS national convention will happen in Reno, Nevada, May 31 – June 2.
Truckers News will update this calendar throughout the year as information on additional events becomes available.
Do you know of an event that isn't listed or that has changed dates or location? Tell us about it in the comments and we will get it added.
Here's what's happening in 2019:
January
Jan. 21-24: National Biodiesel Conference & Expo at Marriott Marquis San Diego Marina in San Diego, California
Jan. 26: Caffeine and Chrome at Gateway Classic Cars in O'fallon, Illinois
Jan. 28-31: Heavy Duty Aftermarket Week at The Mirage in Las Vegas, Nevada
February
Feb. 1-2: Mid-West Truck & Trailer Show at Peoria Civic Center in Peoria, Illinois
March
March 5-8: The Work Truck Show at Indiana Convention Center in Indianapolis, Indiana
March 9: ATHS Three Trails Chapter Open House & Truck Show at ATHS Headquarters in Kansas City, Missouri
March 10-13: Truckload Carriers Association Annual Convention at Wynn Las Vegas Resort in Las Vegas, Nevada
March 15-17: ATHS Northeast Ohio Chapter at 2019 Summit Racing Equipment at IX Center in Cleveland, Ohio
March 18-21:

ATA Technology and Maintenance Council (TMC) Annual Meeting & Transportation Technology Exhibition at Georgia World Congress Center in Atlanta, Georgia

March 20-22:

ATA Safety Management Council (SMC) and Transportation Security Council (TSC) Annual Policy Meeting at Hilton Old Town in Alexandria, Virginia

March 23: Safety Drive for a Cure at Holland, Inc. in Ellenwood, Georgia
March 28-30: Mid-America Trucking Show at Kentucky Expo Center in Louisville, Kentucky
April
April 13: Wheat State Antique Truck Show at Newell's Truck Stop in Newton, Kansas
April 23-28: ATHS Central California Chapter Antique Truck Show & BBQ at Amador County Fairgrounds in Plymouth, California
April 26-28: 75 Chrome Shop Truck Show in Wildwood, Florida
April 27: ATHS Lakeside Sand and Gravel Open House and Antique Equipment Show at Lakeside Sand and Gravel in Mantua, Ohio
April 27: Antique Truck & Military Vehicle Show at West Goshen Shopping Center in West Goshen, Pennsylvania
May
May 3-4: Midwest Pride in Your Ride Truck & Tractor Show at Tri-State Raceway in Earlville, Iowa
May 5: Harrison Career Center FFA Tractor, Truck, Engine & Car Show at Harrison County Fairgrounds in Cadiz, Ohio
May 5-8:

ATA Mid-Year Management Session at JW Marriott Camelback Inn in Scottsdale, Arizona

May 9-11: Kenly 95 East Coast Truckers Jamboree in Kenly, North Carolina
May 12: Mother's Day Truck Convoy for Make-A-Wish in Lancaster, Pennsylvania
May 30 – June 2: Wheel Jam Truck Show at South Dakota State Fairgrounds in Huron, South Dakota
May 31 – June 2: ATHS National Convention and Truck Show at Grand Sierra Resort in Reno, Nevada
June
June 2: Ocean State Vintage Haulers Antique Truck Show at Johnston War Memorial Park in Johnston, Rhode Island
June 15-16: Ohio Vintage Truck Jamboree at Ashland County Fairgrounds in Ashland, Ohio
July
July 11-13: Walcott Truckers Jamboree at Iowa 80 Truckstop in Walcott, Iowa
July 12-14: Gulf Coast Big Rig Truck Show at Mississippi Coast Coliseum and Convention Center in Biloxi, Mississippi
July 14-17:

ATA Forum for Motor Carrier General Counsel at Rancho Bernardo Inn in San Diego, California

July 20: Central Coast Cooler Antique Truck Show at Nipomo High School in Nipomo, California
August
Aug. 8-11: National Brockway Truck Show at CNY Living History Center in Cortland, New York
Aug. 14-17:

ATA National Truck Driving Championship and National Step Van Driving Championships at The David L. Lawrence Convention Center in Pittsburgh, Pennsylvania

Aug. 22-24: Great American Trucking Show at Kay Bailey Hutchison Convention Center in Dallas, Texas
September
Sept. 8-14:

National Truck Driver Appreciation Week (NTDAW)

Sept. 15-19:

ATA TMC Fall Meeting & TMCSuperTech Competition at Raleigh Convention Center in Raleigh, North Carolina

Sept. 20-22: ATHS Classic Truck & Vehicle Show at Riverside Park in Aztec, New Mexico
Sept. 20-22: ATHS Northeast Ohio Chapter Show with Lagrange Engine Show at Lorain County Fairgrounds in Wellington, Ohio
October
Oct. 5-9:

ATA Management Conference and Exhibition (MCE) at San Diego Convention Center and Marriott Marquis in San Diego, California

Oct. 29-31: North American Commercial Vehicle Show at the Georgia World Congress Center in Atlanta
November
Currently no events are listed for November
December
Dec. 21: National Wreaths Across America Day