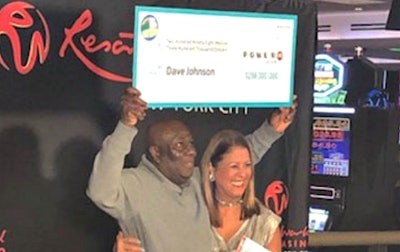 A 56-year-old truck driver from New York won the $298.3 million Dec. 26 Powerball lottery jackpot.
David Johnson, of East New York, decided to take his winnings in a lump sum payment, which after taxes and withholdings, nets out to $114,091,248. His win is the second biggest in state history.
Johnson said that he did not realize that he'd won the jackpot until he was alerted by a co-worker, according to the state Lottery Department.
"I got a call that the winning ticket was sold at the store where I buy my tickets," Johson said. "I went to the store and gave the ticket to the clerk to check. He scanned it and said 'congratulations.' I needed to see it for myself, so I scanned and saw it read BIG WINNER."
Since he found out he'd won, he said it's been an exciting time.
"I can't even eat. I start and can't finish my food. I'm happy with joy inside," Johnson said.
Johnson purchased his ticket at Arnold's Service Station on Linden Boulevard across the street from Iberia Foods where he is employed.