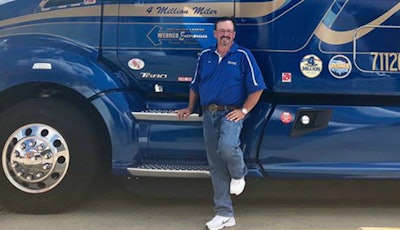 Werner Enterprises driver Timothy Dean is the Commercial Vehicle Safety Alliance's 2019 International Driver Excellence Award winner.
The award recognizes drivers with exceptional careers and dedication to safety. CVSA will present Dean with the award at the CVSA Workshop in St. Louis, Missouri, April 1.
Dean was named a Werner's Road Team captain in 2005 and has served on that team since. He was appointed to the American Trucking Associations' America's Road Team in 2009. Dean has driven for Werner for over 30 years with more than four million accident-free miles.
"With his tenure on Werner's Road Team, Tim continues to be a leader, a role model, and a mentor, not just for the new members of Werner's Road Team, but for every employee of Werner Enterprises; drivers and office associates alike," said Werner's Director of Safety Jim Kochenderfer. "Tim's experience and knowledge make him an excellent resource and he always makes time for anyone who needs his assistance, even though he typically travels over 10,000 miles per month."
Dean keeps his safety skills sharp by competing in driving championships. Dean was grand champion in the 2011 and 2018 Nebraska Truck Driving Championships. He has competed in trucking championships on state and national levels for 20 years, and has placed first, second, or third in almost every championship since 2001.
"Having competed for 20 years at the truck driving championships, practicing every year, those competitions allow me to refine my skills," Kochenderfer said.