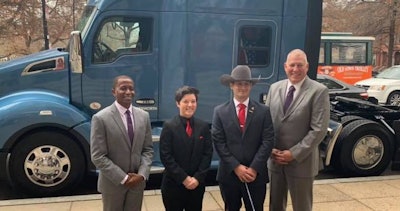 Werner Enterprises driver and Army veteran Quinton Ward is on the fast track to becoming an owner-operator after being announced today as the winner of the Transition Trucking: Driving For Excellence award, which comes with a fully-loaded 2018 Kenworth T680.
Ward, from Westville, Florida, was named the winner during a ceremony this morning at the U.S. Chamber of Commerce.
The award recognizes rookie truck drivers who are U.S. military veterans. It is a partnership between Fastport, the U.S. Chamber of Commerce Foundation's Hiring Our Heroes initiative, and Kenworth.
Ward was one of four top finalists up for this year's Transition Trucking award. Army veteran and current Army Reservist Chris Young, a Stevens Transport driver, was named the first runner-up. The second runner-up spot was a tie between Air Force veteran and U.S. Xpress driver Summar Hanks and Mordaunt "Platt" Brabner, who served in both the Marines and the Navy and drives for TMC Transportation.
"It's just been a whirlwind and I'm so happy to be your finalist and win the truck and drive the Kenworth and showcase what veterans can do out here because we're out here and we're here to stay," Ward said.
Ward served in the U.S. Army as a tank mechanic. After exiting the military, he chose to become a truck driver so that he could travel throughout the nation that he had fought to defend. He's had an eventful first year as a truck driver, having been invited to speak at the White House earlier this year and then being named a finalist for the Mike O'Connell Trucking's Top Rookie Award presented by Truckers News. He told Truckers News in August that his career goals include becoming a trainer, becoming an owner-operator, and taking a trucking trip to Alaska.
"It's always that American dream to go out and work hard and make a future for yourself. I think the industry's not going anywhere and it's steadily growing and there's always going to be a need for the transportation industry," Ward said in August. "My goal would be to finally get to Alaska, for sure, and just grown into an owner-operator."
The 2018 Kenworth T680 that Ward won is valued at $155,000. It has a 12-speed automatic Paccar transmission, Paccar engine, premium leather seats and interior trim, a dash with touchscreen multimedia display, radar and camera systems for improved safety, a fridge, microwave, flatscreen television, and premium bed, among other features.